Beware sweetened drinks, health watchdog warns
A Health Promotion Administration (HPA) survey shows that many people often drink sweetened beverages, which could increase the risks of developing metabolic or cardiovascular diseases because of the consumption of too many "free sugars."
HPA Community Health Division head Lin Li-ju (林莉茹) said a national nutrition health condition survey between 2013 and last year showed that 89.6 percent of junior-high school students, 85.5 percent of senior-high school students and 77.9 percent of people aged 19 to 44 drink sweetened beverages at least once a week; and 25.4 percent of people aged between 19 and 44 eat frozen desserts at least once per week.
Moreover, more than 50 percent of those people drink sweetened beverages at least once per day, she said.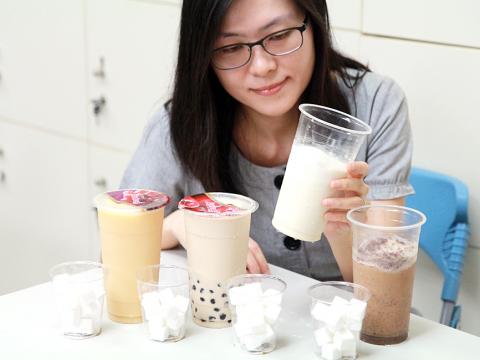 An official from the Ministry of Health and Welfare at a news conference on Friday last week in Taipei, demonstrates the amount of sugar contained within popular sweet beverages sold in Taiwan when ordered with the full amount of sugar.
Photo: Wu Liang-yi, Taipei Times
Lin said sweetened beverages and frozen desserts have little nutritional value and are high in calories, and excessive consumption of sugar can increase the risks of obesity, metabolic disorders, tooth decay and cardiovascular disease, and accelerate aging.
Last year, the WHO recommended that people limit their intake of free sugars to less than 10 percent of their total energy intake to maintain a balanced diet.
It also recommended that a further reduction to less than 5 percent of total energy intake for additional health benefits.
Lin said one 700 milliliter cup of Yakult green tea contains the equivalent of about 14 cubes of sugar (about 42 grams), a 700ml cup of bubble milk tea contains the equivalent of about 12 sugar cubes, which is between 2.7 and 3.2 times the recommended daily sugar intake (5 percent of total energy intake) for a person who weighs 60kg.
Even a 400ml cup of store-bought orange juice or 700ml cup of black tea can contain sugar exceeding the recommended daily intake, she added.
The HPA suggests that people read the nutrition facts on beverage labels carefully before purchase and learn how to calculate the calories and sugar content in a product to avoid consuming too much sugar, Lin said.
The HPA suggests people drink at least 1.5 liters of water every day; choose natural milk over flavored milk to consume nutrients, including calcium, protein and vitamins, without taking in too much sugar; and add a few pieces of fruit or tea leaves to drinking water for flavor.
Comments will be moderated. Keep comments relevant to the article. Remarks containing abusive and obscene language, personal attacks of any kind or promotion will be removed and the user banned. Final decision will be at the discretion of the Taipei Times.