Japanese-era houses in Tamsui to be restored
CREATIVE ZONE: Funds to develop artistic spaces can be used to restore the residences, but as they are historic buildings, there are limits on how the cash can be used
Neglected houses built during the Japanese colonial era in what is today the Jhongjheng section of New Taipei City's Tamsui District (淡水) and were recognized as historic buildings in 2011 are being restored.
Information provided by the Ministry of Culture's Bureau of Cultural Heritage shows that the houses were used by local government officials when Tamsui Port was an important trade hub. Located near the mouth of the Tamsui River (淡水河) and looking at Guanyin Mountain (觀音山), the residences were in an ideal spot for officials of the time and their families, the bureau said.
Two of the houses still have people living in them, while the rest are abandoned, the bureau said, adding that the facade of an abandoned house on Zhongzheng Road is damaged, showing brick walls and discolored stucco, and is covered in vines.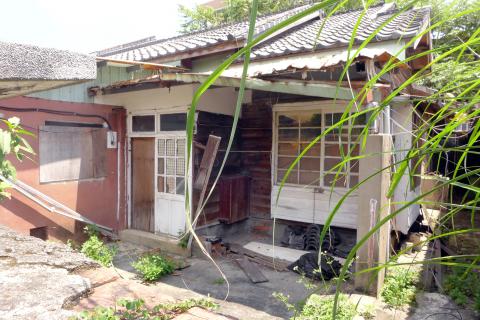 One of several Japanese-era houses awaiting restoration is pictured on Wednesday last week in the Jhongjheng Ward of New Taipei City's Tamsui District.
Photo: Lee Ya-wen, Taipei Times
New Taipei City Cultural Affairs Bureau Chief Secretary Weng Yu-chin (翁玉琴) said that although only that unit is specifically mentioned in the bureau's documents on historic residences, all of the old Japanese houses in the area are categorized as historic buildings.
Weng said that all of the units will be considered for restoration, including the two that have residents, as they are under the management of the city government's secretariat.
New Taipei City Urban Redevelopment Office Recommendations Section Chief Chang Tuan-i (張端益) said that the administrative body responsible for the historic buildings will relocate and shift responsibilities, which will allow a new office to take over.
Chang said that the money for restoring the residences can come from a fund for the development of creative and artistic spaces, which he said encompasses the restoration of the Japanese-era houses.
However, Chang said "as these are historic properties, there will be limitations on how the space can be used from the perspective of cultural heritage preservation."
Chang said that research must be conducted to determine how the space can be used within that framework.
"Project specifics, in terms of a timeframe and details, have yet to be proposed," Chang said.
Comments will be moderated. Keep comments relevant to the article. Remarks containing abusive and obscene language, personal attacks of any kind or promotion will be removed and the user banned. Final decision will be at the discretion of the Taipei Times.