Cross-strait officials join funeral service
HOMETOWN: Several Chinese officials, including two from Liaoning Province, where most of the victims were from, paid their respects at a funeral service in Taoyuan
Taiwanese and Chinese officials yesterday attended a public funeral service for 24 Chinese tourists and two Taiwanese who were killed in a bus fire on a freeway last week.
A religious ceremony was held in the morning in Taoyuan. A planned Christian memorial service was canceled.
The bodies of four Chinese victims were cremated, while another four were due to be cremated later in the day, as arranged by the families that rushed to Taiwan after the accident on Tuesday last week.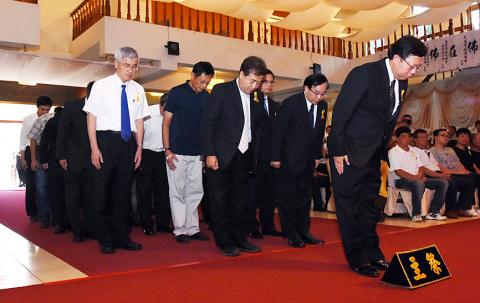 Taoyuan Mayor Cheng Wen-tsan, front, together with Taiwanese and Chinese officials, bows at a public funeral service yesterday in Taoyuan's Jhongli District for the victims of a tour bus fire on Tuesday last week.
Photo: CNA
Several Chinese officials are also in Taiwan to help deal with the aftermath of the bus fire, which killed the tourists from Liaoning Province's Dalian City, giving rise to safety concerns on both sides of the Taiwan Strait.
Chinese officials attended the funeral service that began at 1pm at a funeral parlor in Taoyuan's Jhongli District (中壢).
They included Association for Tourism Exchange Across the Taiwan Straits Secretary-General Liu Kezhi (劉克智) and two Taiwan Affairs Office officials — Li Chengshan (李成山), deputy director of the Liaoning Province branch, and Luan Xusheng (欒旭升), director of the Dalian City chapter.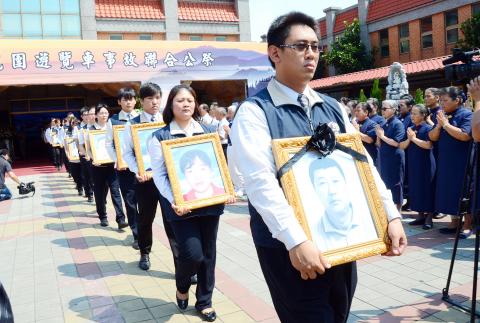 Funeral staff, carrying photographs of the 26 people killed in an inferno on a tour bus on Tuesday last week, leave the memorial hall where a public ceremony for the victims was held yesterday in Taoyuan's Jhongli District.
Photo: CNA
Taiwanese officials expected to attend the funeral service were Chinese Nationalist Party (KMT) legislators John Wu (吳志揚) and Apollo Chen (陳學聖), Mainland Affairs Council Minister Katharine Chang (張小月), Minister of Transportation and Communications Hochen Tan (賀陳旦), Straits Exchange Foundation Acting Chairman Chen Ter-shing (陳德新), Taoyuan Mayor Cheng Wen-tsan (鄭文燦) and Taoyuan City Council Speaker Chiu Yi-sheng (邱奕勝).
Former president Ma Ying-jeou (馬英九) went to pay his respects shortly before the funeral started.
The tour bus carrying the Chinese tourists burst into flames on Freeway No. 2 on Tuesday last week, as the visitors were on their way to Taiwan Taoyuan International Airport to return home after an eight-day visit.
All 24 Chinese tourists, the Taiwanese bus driver and the local tour guide died in the fire.
The Taoyuan District Prosecutors' Office on Sunday said that investigators had found five plastic containers on the bus that tested positive for gasoline and said arson could not be ruled out.
However, prosecutors said they were waiting for the fire department's report on the incident before drawing any conclusions on the cause of the fire.
Comments will be moderated. Keep comments relevant to the article. Remarks containing abusive and obscene language, personal attacks of any kind or promotion will be removed and the user banned. Final decision will be at the discretion of the Taipei Times.