DPP planning to hire 70 new workers for grassroots initiatives
The Democratic Progressive Party (DPP) plans to boost its staff by more than half by recruiting 70 new workers for deployment in grassroots-level organizations, DPP spokeswoman Chiu Li-li (邱莉莉) said yesterday.
Speaking at a news conference after the DPP Central Executive Committee's first meeting since the party's success in the January elections, Chiu said that the DPP plans to hire "new blood" to fill new positions, as well as vacancies created by former party workers who entered public service after the elections.
The party plans to its boost the number of its workers by 56 percent from 125, Chiu said.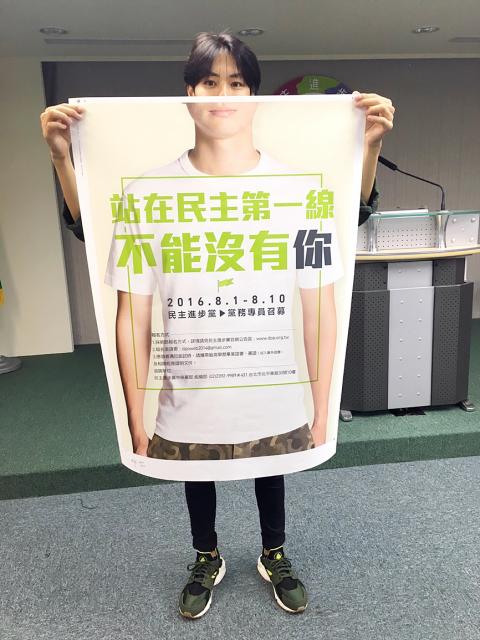 A Democratic Progressive Party worker holds up a poster at a news conference in Taipei yesterday.
Photo: Su Fang-he, Taipei Times
The DPP will accept applications from Aug. 1 to Aug. 10, review applications from Aug. 11 to Aug. 20 and conduct training for the rest of the month, Chiu said.
New employees are to start work on Sept. 1, she added.
Applicants should be young, passionate about politics, interested in promoting public consensus at the local and national level, and ready to facilitate party grassroots drives at the city and county levels, she said.
When asked about wages, Chiu said that the committee had only yesterday passed the proposal and that salaries would be determined later, adding that compensation would be in line with the Labor Standards Act (勞動基準法).
Comments will be moderated. Keep comments relevant to the article. Remarks containing abusive and obscene language, personal attacks of any kind or promotion will be removed and the user banned. Final decision will be at the discretion of the Taipei Times.