Moeno Azuki made food ambassador
SUMMER SOLSTICE: The latest champion of a Japanese competitive eating TV show is to sample Taiwanese summer cuisine and have her experiences filmed for TV
Japanese competitive eater and singer Moeno Azuki has been invited to be the Tourism Bureau's food ambassador for the Summer Solstice 235.
The bureau launched the tourism campaign four years ago as a way to promote Taiwanese food that can be found along the Tropic of Cancer (23.5°N), such as aiyu jelly (愛玉) and cactus ice cream.
Azuki, the latest champion of a popular Japanese competitive eating TV show — which also featured renowned hot dog eater Takeru Kobayashi — is to be introduced to Taiwanese summer specialties in the "Taiwan Fun on the Tropic of Cancer" campaign.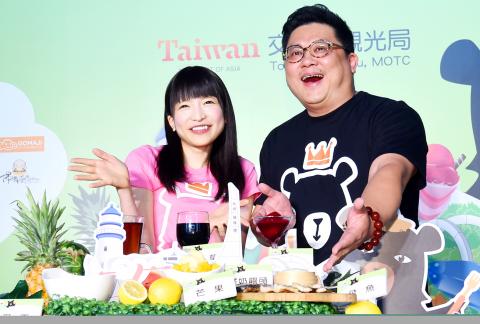 Japanese entertainer Moeno Azuki, known as "Moeazu," left, joins Tourism Bureau Deputy Director-General Wayne Liu at an event to promote tourism and tropical food in Taipei yesterday.
Photo: Liu Hsin-de, Taipei Times
The bureau, which is hoping to turn Taiwan's location on the Tropic of Cancer into a magnet that draws tourists, said that Azuki would join local gourmets in sampling summer cuisine and have her experiences filmed for a TV program.
Tourism Bureau Deputy Director-General Wayne Liu (劉喜臨) said that the campaign would not only let Taiwan be seen around the world, but it would also create a characteristic that represents the nation.
Asked why Azuki was invited to be the food ambassador, Liu said that Japanese tourists are the most impressed by the food they eat in Taiwan, particularly food consumed by ordinary people.
"After careful consideration, we decided to work with the Japanese television program and invited Azuki to taste the food in Taiwan. We hope that what she sees and hears about Taiwanese food can be seen in Japan and other Asian nations," Liu said.
The campaign highlighting food available along the Tropic of Cancer created tourism revenue that topped NT$2 billion (US$62.5 million) last year, Liu said.
The bureau also plans to hold a picnic day in September in a campaign to promote the concept of energy conservation.
Azuki said that she has visited Taiwan four times, adding that her favorite Taiwanese dish is rice with braised pork (滷肉飯).
The dish is so tasty she can eat 100 bowls of it, she said.
Commenting on her latest visit, Azuki said that she would take on the challenge of eating as many bawan (肉圓) — a popular Taiwanese street food featuring disk-shaped dough filled with pork and bamboo shoots — as she can. Bawan is generally served with a sweet and sour sauce.
Despite her reputation as a big eater, Azuki is petite. She said that singing and dancing helps her burn a lot of calories.
For the campaign, the Tourism Bureau is also working with Taiwanese girl band MerMer, who have written a theme song that has attracted more than 300,000 views online.
Other events in the energy conservation campaign include a music festival in Alishan and a baseball carnival in Chiayi County.
Additional reporting by CNA
Comments will be moderated. Keep comments relevant to the article. Remarks containing abusive and obscene language, personal attacks of any kind or promotion will be removed and the user banned. Final decision will be at the discretion of the Taipei Times.