Determined mail carrier solves postcard mystery
A postcard that was almost thrown away because the address was so difficult to decipher has finally been delivered because of the tenacity of Chiayi's Chunghwa Post Office branch mail carrier Wang Tai-sung (王太松).
The postcard's recipient, Huang Yi-chen (黃逸蓁), posted on Facebook that the postcard from France arrived at the end of last month.
Wang said that the address had only Huang's name, road name and the numbers "25x40."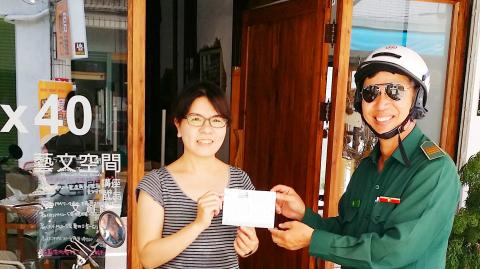 Huang Yi-chen, left, and mail carrier Wang Tai-sung on Monday hold a postcard as they pose for a photograph.
Photo: Wang Shan-yen, Taipei Times
After the regular mailman failed to deliver the postcard it was transferred to Wang, the post office said.
Wang said he thought the numbers might indicate the building number.
He said the road named in the address has about 700 residences, and that he then searched Huang's name online.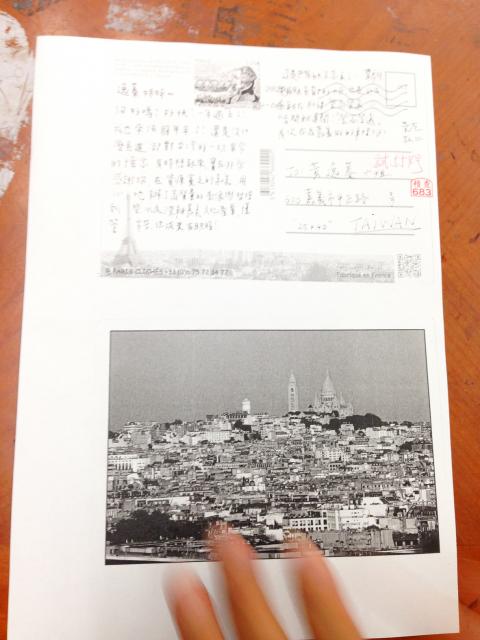 A postcard sent to Huang Yi-chen from France is shown on Monday.
Photo: Wang Shan-yen, Taipei Times
The search turned up a lawyer by the same name, who was not the intended recipient, Wang said.
After reading the postcard, Wang said he decided that the sender must have attended an event held by the Chiayi Cultural Affairs Bureau.
Wang said he called the bureau, but after three days without a response he went to the office to speak with bureau officials, adding that together they discovered that 25x40 is the name of a cafe on Jhongjheng Road.
A number of netizens praised Wang, saying: "Having competent mail carriers is a Taiwanese characteristic."
Wang said: "I love doing what pleases people."
Comments will be moderated. Keep comments relevant to the article. Remarks containing abusive and obscene language, personal attacks of any kind or promotion will be removed and the user banned. Final decision will be at the discretion of the Taipei Times.