Groups call for scrapping service trade agreement
The government should withdraw a proposed service trade agreement with China and halt negotiations over a trade in goods agreement, civil campaigners yesterday said during a protest outside the Executive Yuan building, ahead of the third anniversary of the signing of the service trade pact today.
About 20 campaigners from groups associated with the Economic Democracy Union gathered in front of the Executive Yuan building's gates, shouting that they "had not forgotten" their pre-election demand that the government withdraw the service trade agreement, over which protesters surrounded the Legislative Yuan compound for weeks during the 2014's Sunflower movement after students occupied the Legislative Yuan's main chamber.
Economic Democracy Union convener Lai Chung-chiang (賴中強) accused the Democratic Progressive Party (DPP) of riding the wave of public discontent — which culminated in the Sunflower movement — to come to power, and then pushing for the trade in services and goods agreements with China after taking office.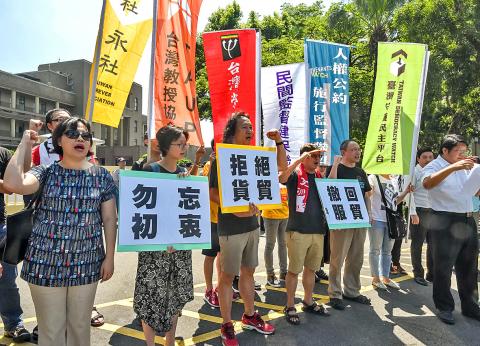 Protesters outside the Executive Yuan in Taipei yesterday demand that President Tsai Ing-wen fulfil her pre-election promise and withdraw the cross-strait service trade agreement.
Photo: Huang Yao-cheng, Taipei Times
"The DPP government's main tune is still a full opening of the economy to China," he said, citing statements by Premier Lin Chuan (林全) earlier this month that the service trade agreement should be reviewed and trade in goods negotiations should continue after the passage of new supervisory articles.
"The only difference is that while [former Chinese Nationalist Party (KMT) president] Ma Ying-jeou (馬英九) only took one laxative [opening the economy to China], the DPP is seeking to balance trade by opening the economy further, as if they could avoid economic diarrhea by taking a second 'globalization' laxative," he said.
Lai added that it is unclear whether the administration believes the service trade agreement required legislative approval following the expiration of a previous legislative resolution.
The Ma administration had said that the agreement did not require explicit legislative approval because it was part of the broader Economic Cooperation Framework Agreement, which had already secured legislative approval.
Taiwan Association of University Professors vice president Lin Hsiu-hsin (林秀幸) reiterated the campaigners' claims that the service trade agreement and the trade in goods pact would sacrifice the interests of workers and small businesses for the benefit of large banks and manufacturers.
Comments will be moderated. Keep comments relevant to the article. Remarks containing abusive and obscene language, personal attacks of any kind or promotion will be removed and the user banned. Final decision will be at the discretion of the Taipei Times.