River tracing banned in downpours
PRECAUTIONARY MEASURE: If rainfall of 30mm per hour or more hits northern Taiwan, people will be barred from river-tracing activities in parts of New Taipei City
River-tracing activities in the New Taipei City's mountainous areas will be barred when downpours of 30mm per hour or more hit those regions, the city's Fire Department said on Friday.
The department said the precautionary measure has been taken after a river-tracing accident in the city's Pinglin District (坪林) left five dead, including a 13-year-old girl.
The unstable weather northern Taiwan has faced recently is likely to continue in the coming days because of a strong weather front from the southwest, the department said, which could make river-tracing activities dangerous.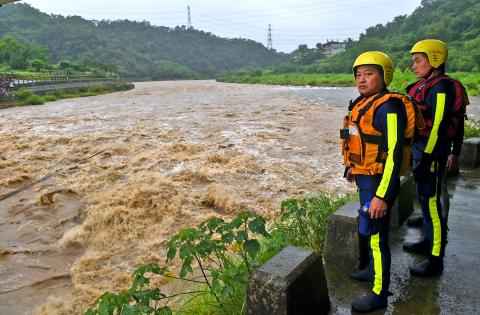 Rescue workers look at the surging river in New Taipei City's Pinglin District on June 5 amid a search for six people reported to have been swept away by the rain-swollen river.
Photo: Chien Jung-fong, Taipei Times
The department said that if rainfall of 30mm per hour or more hits northern Taiwan, people will be barred from river-tracing activities in the mountainous areas of the city's Pinglin, Wulai (烏來), Sindian (新店) and Sansia (三峽) districts.
If heavy rains hit any of the four districts, New Taipei City will instruct the offices of the four districts to send patrol teams to check if people are exploring rivers there.
The patrol teams will advise people not to continue their activity or keep people away from rivers to prevent any casualties or damage, the department said.
A swimming coach surnamed Wu (吳) said that river tracing is fun, but that people who do it should hire an experienced guide who can sense when a situation is getting precarious and pull the group away from danger.
The department said that people should be careful when they do any water activities in unstable weather for their own safety.
Meanwhile, earlier this week Minister of Edcuation Pan Wen-chung (潘文忠) said his ministry is to consult with the Ministry of Transportation and Communications to stiffen the certification mechanism for river-tracing coaches and set more stringent rules on tour guides leading river-tracing tours.
He said although his ministry had introduced rules governing tour guides assigned to lead water activities organized by schools, the rules have come up short, as evidenced in the recent accidents.
He said the Tourism Bureau had set rules on certifying coaches for water activities, and that the two ministries would work to stiffen these rules.
He added he would instruct the Sports Administration under the education ministry to zone out safe areas for river tracing.
Additional reporting by Sean Lin
Comments will be moderated. Keep comments relevant to the article. Remarks containing abusive and obscene language, personal attacks of any kind or promotion will be removed and the user banned. Final decision will be at the discretion of the Taipei Times.