Italy refugee project launched
'EXACTLY WHAT WE NEED': Almost 100,000 refugees are awaiting processing at a reception center on a small island in Italy that has a native population of only 6,304
An initiative was launched in Taipei yesterday to provide temporary housing for children of African and Middle Eastern refugees at the Lampedusa Immigrant Reception Center in Italy.
The launch of the Casa di Love initiative, a joint project between Lifestyle Global Enterprises Inc, the Rising People Foundation and the Hsieh Hsu-ying Culture and Arts Foundation, is to build prefabricated houses for at least 100 refugee children awaiting processing on the Italian island of Lampedusa.
The center is a major midway checkpoint on the northbound maritime route for people trying to reach Europe and close to 100,000 people are awaiting processing on the 20.2km2 island, said William Hsieh (謝貞德), the founder of Lifestyle Global Enterprises and the foundation.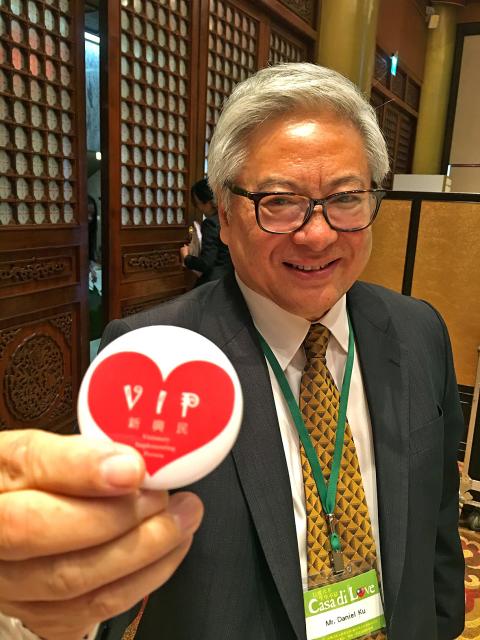 Casa di Love project manager Daniel Ku holds up a badge in Taipei yesterday.
Photo: Chen Ping-hung, Taipei Times
Hsieh said he became aware of the European refugee crisis through the Association of World Citizens and he launched the initiative because conditions for the refugees have deteriorated following terrorist attacks in France and Belgium.
The drowning of Alan Kurdi off the coast of Turkey and the global attention it generated showed that refugee children are in desperate need for help, he said, adding that Lampedusa Mayor Giuseppina "Giusi" Nicolini deserves international recognition for her courage in accepting the refugees, in spite of the island's normal population of 6,304.
Hsieh said project manager Daniel Ku (顧卓雄) had conducted an inspection of the island to verify that it is the place with the most urgent need for help.
Hsieh said Nicolini had endorsed the project with the comment: "This is exactly what we need right now."
The project is to spend NT$12 million (US$371,069) over a three-year period on pre-fabricated houses for refugee children, with the goal of housing at least 100 individuals and with the first group of houses to be completed by fall this year, Ku said.
The project is recruiting university students to volunteer during their summer and winter vacations to care for refugee children and teach them about Taiwan, with the requirement that volunteers must enjoy cooking, dancing and singing, Ku said.
Lampedusa City Council speaker Rosangela Mannino said at the event that the project had demonstrated the value of international cooperation and that Taiwan is now well-known to Lampedusa, adding that she expressed her gratitude to Taiwan on behalf of the island.
The project announced during the event an additional program with the Amaltea youth academy in Prato, Italy, to bring together the children of new immigrants and single parents for the advancement of cross-cultural understanding and the integration of refugees into Italian society.
Comments will be moderated. Keep comments relevant to the article. Remarks containing abusive and obscene language, personal attacks of any kind or promotion will be removed and the user banned. Final decision will be at the discretion of the Taipei Times.