Tsai calls for military police to improve discipline
FEMALE FORCE: The nation's leader was ranked the 17th most powerful woman in the world by 'Forbes' magazine in its annual list of top 100 most powerful females
President Tsai Ing-wen (蔡英文) yesterday called for stricter discipline among military police during an inspection of the Taipei unit.
Tsai, accompanied by National Security Council Secretary-General Joseph Wu (吳釗燮), Minister of National Defense Feng Shih-kuan (馮世寬) and Chief of the General Staff Yen Teh-fa (嚴德發), toured the the Military Police's 239 Battalion in Taipei's Dazhi area (大直) in a Cloud Leopard armored vehicle before speaking with staff.
Citing the lyrics of the military branch's anthem, Tsai said that the military police are responsible for maintaining order among the armed forces and should hold themselves to a higher standard.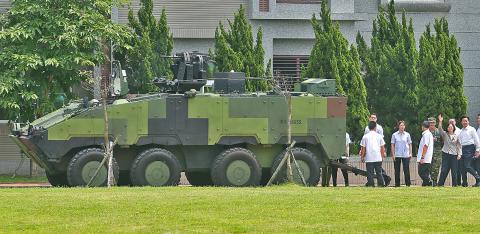 President Tsai Ing-wen, second right, waving, prepares to board a Cloud Leopard armored vehicle in Dazhi District, Taipei, yesterday.
Photo: CNA
The president said that the branch needs to understand that its job in the democratic era is to protect democracy, freedom and the rule of law.
The military police were criticized after video footage in February showed a march-past by trainees described as shoddy, while the unit was involved in a warrantless search of a private residence in March seeking government documents dating back to the 1960s and 1970s.
Then-minister of national defense Kao Kuang-chi (高廣圻) vowed to improve training, while the ministry apologized for the improper handling of the investigation.
Tsai's trip to the 239 Battalion, the military police's only armored unit, is the fourth trip she has made to inspect military units since taking office on May 20. She has visited air force bases in Hualien County as well as navy and army bases in Yilan County.
She said many officers told her during her inspections that their top concern is a shortage of personnel, along with increasing workloads and pressure to complete training.
Tsai said she would discuss those issues with Feng and Yen so that service and combat units could focus on carrying out their tasks.
She said this would be part of a reform of the armed forces, adding that she is determined to work with everyone to re-establish the dignity of the military.
In other news, Tsai on Monday was ranked the 17th most powerful woman in the world by Forbes magazine in its annual list of the world's 100 most powerful women.
Tsai was the only Taiwanese on the list, one of a handful of Asian female leaders.
Others from Asia included: South Korean President Park Geun-hye, ranked 12th; Myanmar's Aung Sun Suu Kyi (26th); Bangladeshi Prime Minister Sheikh Hasina Wazed (36th); and Nepalese President Bidya Devi Bhandari (52nd).
German Chancellor Angela Merkel, who has ruled Europe's strongest economy since 2005, held on to the top spot of the list for the sixth consecutive year, while US presidential hopeful Hillary Rodham Clinton was second, with US Federal Reserve Chair Janet Yellen third.
Others making the list included US first lady Michelle Obama (13th) and in 58th, Chinese President Xi Jinping's (習近平) wife, Peng Liyuan (彭麗媛).
Women from 29 nations in politics, philanthropy, business and technology spheres were on the list, including 12 world leaders, 32 chief executive officers and 11 billionaires.
The list, which was first released in 2004, ranks the women by "money, media momentum, spheres of influence and impact."
Comments will be moderated. Keep comments relevant to the article. Remarks containing abusive and obscene language, personal attacks of any kind or promotion will be removed and the user banned. Final decision will be at the discretion of the Taipei Times.