Heat causes train to derail
All 50 passengers aboard an express train that derailed in Hualien yesterday have been reported safe, the Taiwan Railways Administration said.
Six carriages of the Chukuang Express train, which runs on the Taitung-Hualien-Changhua route, derailed between Fuli Station (富里) and Dongjhu Station (東竹) at 12:34pm, after the rails buckled under scorching heat.
Fortunately, the train driver was able to reduce the train's speed after seeing the buckled rails, the agency said.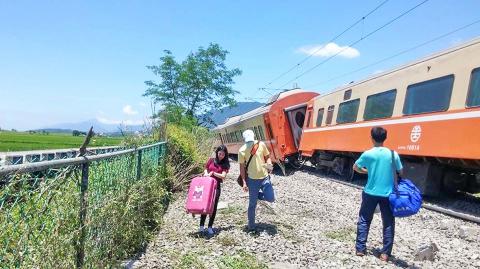 Passengers walk alongside a train that derailed in Hualien County's Yuli Township yesterday.
Photo provided by the Taiwan Railways Administration
It said the temperature of the affected rails was measured at 63oC, higher than the 60oC that an average rail is rated to withstand.
The Central Weather Bureau said temperatures in Hualien had stayed at above 31oC since 10am.
Due to the incident, 2,740 passengers on 17 trains had been affected as of 6pm.
Passengers delayed for 45 minutes or more are to get full refunds on their tickets, the agency said.
It had originally pledged to have two-way traffic returned to normal by the end of the day, but extended its estimate to 5am today.
It said the six carriages were badly damaged and about 250m of rails were damaged, making it difficult for cranes to operate, as the scene of the accident was near farmland and ditches, meaning that makeshift roads needed to be built to allow access.
The agency said that to avoid similar incidents from happening again, it would suggest to the Ministry of Transportation and Communications that the heat durability of rails be raised to 70oC.
It also plans to install monitoring devices at stations. Should rail temperatures exceed 50oC, trains are to be alerted to slow down.
Comments will be moderated. Keep comments relevant to the article. Remarks containing abusive and obscene language, personal attacks of any kind or promotion will be removed and the user banned. Final decision will be at the discretion of the Taipei Times.