Panda death rumor exaggerated
NO UNIFICATION? Taipei Zoo rebutted reports that the panda is dead, as speculation mounted, including its political implication, on Tuan Tuan's alleged demise
Taipei Zoo on Monday released photographs of its giant male panda, Tuan Tuan (團團), after a report appeared on China's Global Times Web site that he had died.
In one of the photographs, Tuan Tuan appears to be looking through steel bars at Monday editions of local newspapers that have been placed in front of him.
In another, the 11-year-old is playing in an outdoor area of the zoo's panda enclosure.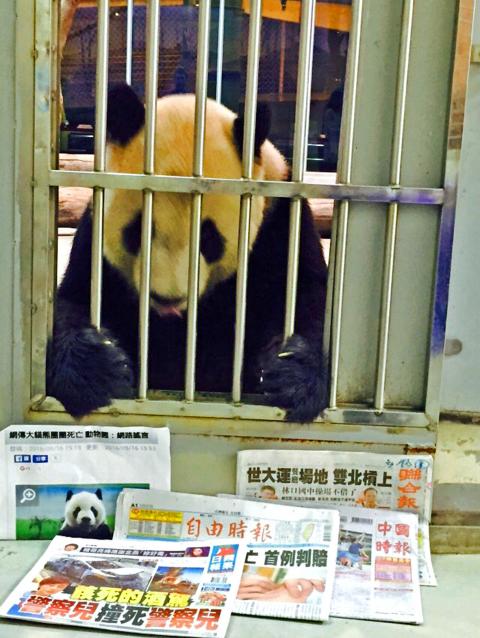 Tuan Tuan, one of Taipei Zoo's two adult giant pandas, peers through steel bars on Monday, next to the day's newspapers in a photograph released by the zoo to refute a report that he had died.
Photo courtesy of Taipei Zoo
In a statement, zoo director Chin Shih-chien (金仕謙) said the panda, his partner, Yuan Yuan (圓圓), and their cub, Yuan Zai (圓仔), were all doing well.
"We welcome everyone to visit them at the zoo," Chin said.
Tuan Tuan and Yuan Yuan arrived in Taiwan in December 2008 as a gift from China, amid warming relations across the Taiwan Strait. Their male cub was born in July 2013.
In addition to the photographs, the zoo released video footage showing the male panda alongside copies of Monday's newspapers.
The move came virtually within minutes after the state-run Global Times Web site reported that Tuan Tuan had died of canine distemper, a viral disease that affects a wide variety of animal families.
Early on Monday afternoon, the Web site quoted a "Taiwanese media" Web site as saying that the Taipei City Government announced the death of Tuan Tuan at 9:50am on Monday, after he had been diagnosed with the disease four days earlier.
Shortly after Taipei Zoo's clarification, the Global Times Web site retracted the story and apologized to its readers for "not double-checking the facts" before reporting.
The Global Times said its source for the story was an online chat room in Taiwan, which it said was citing a Taiwan-based television channel.
In all, the rumor had a lifespan of less than two hours, but the Internet was still rife with comments and speculation about the meaning of the alleged demise of the giant panda, whose name and that of the female panda mean "reunion" (團 圓) in Chinese.
It means that China and Taiwan are no longer meant to be unified, one netizen posted under the story on the Global Times Web site before the story was retracted.
Another netizen said that coming just before Friday's inauguration of a new Taiwanese president deemed far less friendly toward China than her predecessor, the panda's death could only mean that the bilateral relationship is bound to change.
Comments will be moderated. Keep comments relevant to the article. Remarks containing abusive and obscene language, personal attacks of any kind or promotion will be removed and the user banned. Final decision will be at the discretion of the Taipei Times.