Labor groups, NPP demand minimum wage 'umbrella'
Minimum wage legislation should be passed to guarantee workers a living wage, labor groups said yesterday at a protest outside the Legislative Yuan, saying that the current review process favors corporate interests.
About 100 demonstrators from the Taiwan Labor Front and New Power Party (NPP) stood in lines to form the characters "26k" along Jinan Road outside the legislature building, holding blue umbrellas to form a symbol of their demand that workers be given a "safety umbrella" of a monthly minimum wage equal to at least NT$26,000.
"Currently, the only reference to the minimum wage in legal statutes is the Labor Standards Act's (勞動基準法) 'basic wage,' but its definition is unclear, leading to haggling every time the review committee meets," Taiwan Labor Front secretary-general Son Yu-lian (孫友聯) said, calling for clear standards to be imposed on the current "chaotic" review process.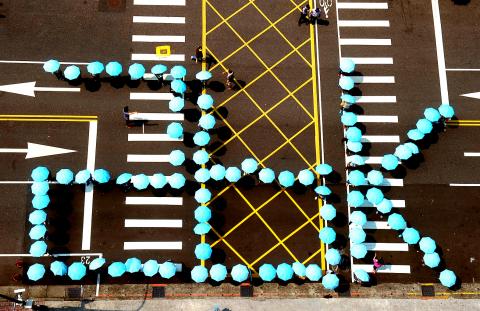 Members of the Taiwan Labor Front and New Power Party yesterday in Taipei use umbrellas to spell out "26k" — short for NT$26,000 — which is the minimum wage they want the government to adopt.
Photo: CNA
"The future minimum wage act, which we hope for, should include a clear calculation formula, as well as specifying what parameters to use and what kinds of pay are included," he said.
Kaohsiung Confederation of Trade Unions president Chiang Chien-hsing (江健興) said the NT$26,000 figure was chosen because it represents the absolute minimum working wage people need to support themselves and dependents.
"If you do not increase the minimum wage, people end up having to no choice but to work overtime to provide for their families," he said, estimating that workers earning the current minimum wage of NT$20,008 need to work overtime for an additional six days each month to support their families.
"The current review committee is a sham," Chiang said, adding that Ministry of Labor officials on the committee often side with corporate interests in the absence of a clear calculation formula, and that there should be a legal requirement that a review be conducted every year.
"Right now it is up to the Ministry of Labor to decide whether to conduct a review and we cannot call for one because there is no law making it a requirement — so often years go by before a meeting is called," Chiang added.
In related news, the NPP yesterday proposed draft minimum wage legislation that would require a minimum wage equal to at least 60 percent of median disposable income multiplied by workers' average number of dependents, which would have resulted in a minimum wage of NT$26,867 in 2013, according to party calculations.
"A wave of liberal trade policies around the world has been continually forcing down workers' wages and has already reached the point of threatening many workers' survival," NPP Executive Chairman Huang Kuo-chang (黃國昌) said. "The minimum wage has to be at least enough to support workers and their families."
Comments will be moderated. Keep comments relevant to the article. Remarks containing abusive and obscene language, personal attacks of any kind or promotion will be removed and the user banned. Final decision will be at the discretion of the Taipei Times.