Egg sculptures on display
EGGS WITHIN EGGS: Egg sculptor Liao Chi-chen said he had no interest in academia and chose to pursue wood carving until a paint spill opened the door to art
Changhua Arts Museum on Thursday opened an exhibition featuring the works of egg sculptor Liao Chi-chen (廖啟鎮), who is renowned for transforming eggshells into intricate works of art.
Liao's "eggs within eggs" — made from seven carved eggshells that fit into one another like Russian dolls — are among more than 500 egg sculptures on display.
Liao said that although he has been making egg sculptures for about 30 years, he has only been recognized for his work in recent years, when one of his creations was featured in the 2012 Taiwan Arts and Crafts Competition.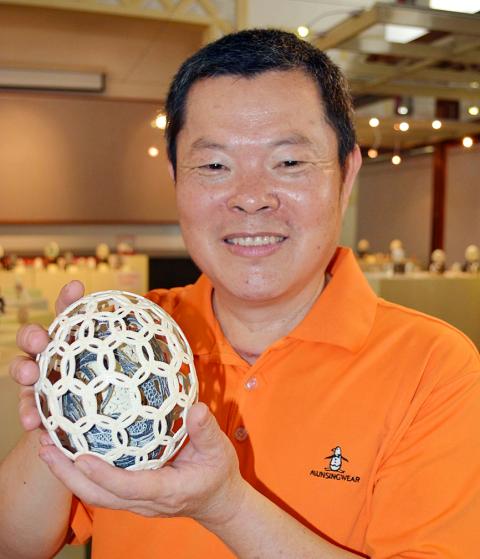 Egg sculptor Liao Chi-chen holds up one of his egg sculptures that comprises eggs of seven different sizes on Thursday last week in Changhua County.
Photo: Tang Shih-ming, Taipei Times
After the competition, Liao said his family encouraged him to submit work to other events.
He went on to win prizes at the Taoyuan Arts Exhibition and the US-based Arts Kudos International Juried Art Competition and Exhibition.
Liao said that as a child he hated studying, but was drawn to painting and crafts. After finishing junior-high school, he abandoned his studies and moved to Miaoli County's Sanyi Township (三義), where he apprenticed as a wood carver.
In his early 20s, he accidentally splashed paint on an egg and was impressed by the potential of egg sculptures, Liao said.
"Eggshell is an incredibly fragile material and working with it requires foresight, energy and persistence," Liao said.
An egg sculptor begins the creative process by selecting a suitable egg and draining its contents; the egg is cleaned and the artist draws a design on the shell before carving, which is followed by more cleaning before color and decorations are added, he said.
Each stroke must be made with attention to detail that combines relief and openwork-carving techniques, he said, adding that every egg sculpture is one of a kind and the product of multiple failed attempts.
The exhibit displays a large body of his work from various stages of his career, reflecting the evolution of his style in a wide variety of sculptures that are technically, thematically and materially distinct, Liao said.
The exhibition features relief, intaglio and openwork egg sculptures made from quail, turkey, duck, geese, emu and ostrich eggs. The designs range from traditional Chinese zodiac animals and ink paintings, to abstract geometric shapes, he said.
"I hope the exhibition helps the audience find something new in the old art of egg sculpture," Liao said.
Comments will be moderated. Keep comments relevant to the article. Remarks containing abusive and obscene language, personal attacks of any kind or promotion will be removed and the user banned. Final decision will be at the discretion of the Taipei Times.