Councilor calls for removing KMT emblem from shrine
The Tainan City Government should remove the Chinese Nationalist Party (KMT) emblem from a gate at the Koxinga Shrine, Democratic Progressive Party (DPP) Tainan City Councilor Lee Wen-cheng (李文正) said.
"The city government should remove the party emblem as soon as possible to protect this historical architecture from political pollution," Lee said.
The emblem was added to the gate in 1947 on the order of then-minister of national defense Pai Chun-hsi (白崇禧), who also ordered his own name to be inscribed on the gate's pillars and shrine's inscription board, when he visited the site following the 228 Massacre.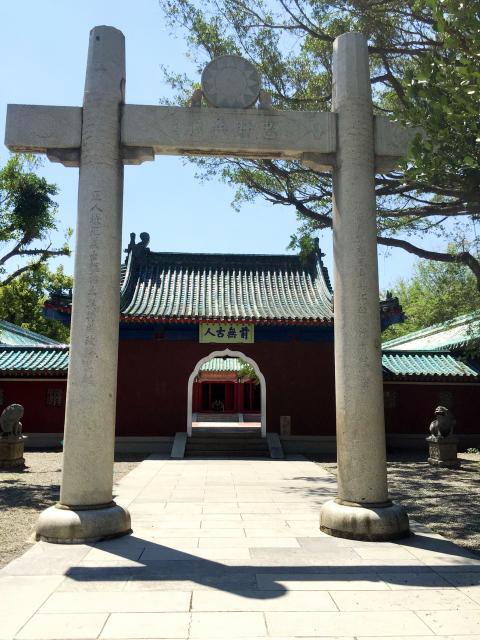 The Chinese Nationalist Party (KMT) emblem sits atop a gate at the Koxinga Shrine in Tainan on Friday last week.
Photo: Tsai Wen-chu, Taipei Times
Lee said he called for the removal of the KMT emblem from the shrine during the tenure of former Tainan mayor Hsu Tain-tsair (許添財), but the then-members of Tainan's Historical Records Committee rejected the call by a vote of nine to six and instead erected a sign near the monument, a result Lee called "deeply disappointing."
However, as the nation is poised to have its third transfer of power following the DPP's victory in the Jan. 16 presidential election, the calls for transitional justice by Taiwanese "can be heard from the heavens," Lee said, adding that the time to remove the "ridiculously inappropriate" emblem has arrived.
"A democratic nation like Taiwan must get rid of symbols of dictatorship, like the statues of Chiang Kai-shek (蔣介石) that are being torn down. If the government cannot achieve something as simple as this, how can the public have any faith in transitional justice?" Lee said.
The Tainan Cultural Affairs Bureau said that the shrine was registered as a historic landmark in 2010 and modifications to the site are possible through a cultural heritage assessment process.
Although the KMT emblem on the gate had been called into question in 2009, the committee at the time decided to keep the emblem and the inscriptions and put up a sign near the monument to explain its history, the bureau said.
The explanatory text — written in Chinese, Japanese and English — states that the monument was altered during the authoritarian period because the government lacked respect for historical sites and that the changes were kept by the city government as a warning to visitors to safeguard Taiwanese democracy, the bureau said.
The bureau said it respects the committee's decision, but added that if the message is considered to be unclear, it could edit the text to emphasize it.
Comments will be moderated. Keep comments relevant to the article. Remarks containing abusive and obscene language, personal attacks of any kind or promotion will be removed and the user banned. Final decision will be at the discretion of the Taipei Times.