'Four-Way Voice' suspending — not stopping — publication: university
Shih Shin University yesterday denied that it would stop publication of Four-Way Voice (四方報), the only newspaper in Taiwan serving immigrants and migrant workers from Southeast Asian nations, adding that it would reinstate the print edition in August after resolving several issues related to its continued operation.
The university, which owns the newspaper, issued the statement after the paper's news team announced on Facebook that all nine full-time staff are to leave the university on April 30, marking the end of the publication.
The team thanked the university and readers for their support for nearly a decade. It added that it would publish a commemorative edition of the newspaper in Vietnamese, Thai, Indonesian, Filipino, Cambodian and Burmese, which people can download for free.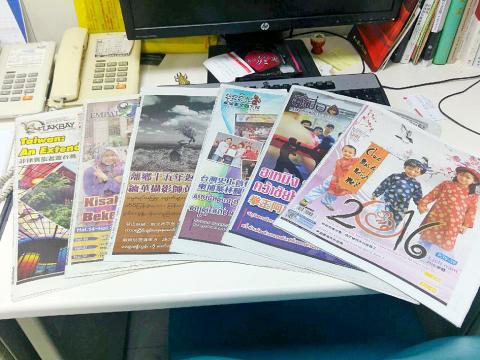 Copies of "Four Way Voice," a monthly for Southeast Asian immigrants and workers in Taiwan, are on display in this undated photograph.
Photo courtesy of the Four Way Voice
"Even though the publication would cease to exist and our Facebook page will no longer be updated, we hope that Taiwanese society can continue to care about the issues that Southeast Asian immigrants and migrant workers face. They have yet to be fairly treated by Taiwanese society. We also hope that the spirit of the newspaper's founder, Lucie Cheng (成露茜) — which is to speak for the minorities — would continue to exist," the team said.
In response, the university said that Four-Way Voice would continue to exist, adding that it would be transformed into a social enterprise with the legal status of a corporate juridical person.
"The newspaper has existed for nearly a decade, but its legal status is still in limbo. As such, we must first resolve many legal issues, such as trademark and intellectual property rights, before it is turned into a social enterprise," the university said.
On why it has to temporarily suspend publication, the university said that Four-Way Voice is supported by a budget reserved for another school paper, Lih Pao Daily (台灣立報). However, that budget would soon run out, and the university has to suspend publication as it needs funds for the full-time staff's severance payments.
The university said that the Vietnamese edition of the newspaper would still be published for next month. An office is to be established in June to prepare for the reinstatement of Four-Way Voice in August.
The university will also hold a press conference to announce a partner that would work with the school in publishing the paper.
Comments will be moderated. Keep comments relevant to the article. Remarks containing abusive and obscene language, personal attacks of any kind or promotion will be removed and the user banned. Final decision will be at the discretion of the Taipei Times.