Skeleton parts sent to US for tests
HUALIEN FIND: A canine tooth and some finger bones have been sent to Florida for tests to determine the age of a skeleton uncovered in January during construction work
Parts from a possibly ancient skeleton discovered during construction of an underground sewer line in Hualien earlier this year have been sent to the US in a bid to determine the exact age of the remains through the carbon-14 dating technique, the Hualien County Cultural Affairs Bureau said on Monday.
The construction crew first uncovered a skull about 1m below ground on Jan. 9.
Police and prosecutors at first treated the skeleton as that of John or Jane Doe because they were unable to determine the sex given that the remains had apparently been underground for many years.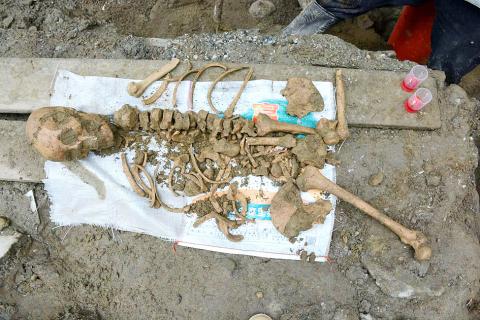 A skeleton found in Hualien earlier this year is pictured in an undated photograph.
Photo: Hua Meng-ching, Taipei Times
However, a bureau employee thought the finding was unusual and went to inspect the skeleton, which led to more items being found.
Six broken pottery shards were found next to the skeleton, but no grave goods were discovered.
The skeleton, which was complete, indicated that the body had been placed on its back.
The bureau said the skeleton could be that of a young adult, adding that a canine tooth and some finger bones were sent to a laboratory in Florida for testing.
Elderly people who live near the site said the area was once an Aboriginal village and that several historical items had been uncovered in the past, but were not reported to the authorities.
The bureau said it was rare to find ancient items in the area, considering that it is a residential zone that has been subject to intensive development for many years.
Given that nothing besides the skeleton and the six pottery shards were found, the contractor did not have to stop construction work, but was only asked to report any item that might be of historical significance to the bureau.
Lin Hsiu-man (林秀嫚), a researcher at the National Museum of Prehistory in Taitung, said the lines on the six pottery shards are similar to those found on items from the Jinpu Culture, which existed between 1,500 years and 400 years ago.
Comments will be moderated. Keep comments relevant to the article. Remarks containing abusive and obscene language, personal attacks of any kind or promotion will be removed and the user banned. Final decision will be at the discretion of the Taipei Times.