Ko Wen-je calls on wardens to arrange more social events
Amid public concerns over a surge in "random assaults," Taipei Mayor Ko Wen-je (柯文哲) yesterday called on borough wardens to arrange more community activities so that mentally unstable people would have a channel to engage in social activities and receive more attention.
Ko said random attacks could be exacerbated by continuous media coverage.
Ko made the remarks at a meeting with the city's borough wardens after a police officer was injured by a man wielding a knife at Xinbeitou MRT Station in Taipei.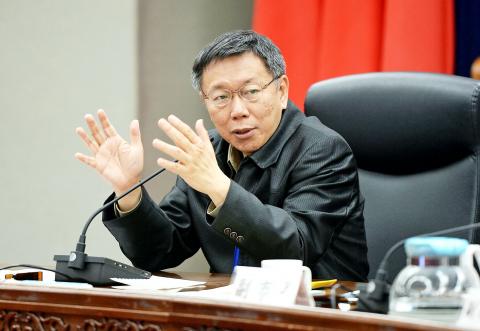 Taipei Mayor Ko Wen-je gestures at a meeting with the city's borough wardens yesterday.
Photo: Lin Cheng-kun, Taipei Times
He urged wardens to "drag people out of their homes" by holding community events, allowing residents to learn more about one another.
"If you put those eccentrics in a more normal social framework, they will behave more normally," he said.
Dahu Borough Warden Hung Mei-hui (洪美惠) said she supports Ko's idea, but due to medical privacy policies, she and her counterparts would not have information about their borough's residents unless neighborhood chiefs provide them with such information.
Earlier, Ko said the fact that a man who beheaded a four-year-old girl in Neihu District (內湖) on Monday was not under the surveillance of the city's social security network indicates that the network needs to be overhauled.
He said that after the murder of a student at Wenhua Elementary School in Beitou District (北投) last year, the Taipei Department of Education had installed electric fences along the perimeters of some elementary schools and instructed schools to put together campus patrols, but these efforts were apparently insufficient.
"Records of yesterday's [Monday's] incident showed that the suspect had tried to break into a school. He was immediately stopped, but still, the incident happened just outside a school," Ko said. "Clearly, the suspect is not on the network's watchlist. This shows that the network needs to be reviewed."
"Like I said, the opposite of love is not hatred, but apathy. Taipei needs to pool the efforts of the city's household registration, healthcare, social welfare and civil affairs systems to create an [improved] social-security network whereby people can care for those around them," Ko said.
Ko said that scientific research has proved that the death penalty does not help to lower crime rates.
"The effect of strict penalties is short-lived. What is the use of strict law enforcement after someone has committed murder?" he said.
"Obviously, most random attackers are drug addicts or alcoholics, or people with abnormal personalities," he said. "Treat them with love and care, so that they do not become a threat to society. Punishing them after they kill someone is not the way."
Comments will be moderated. Keep comments relevant to the article. Remarks containing abusive and obscene language, personal attacks of any kind or promotion will be removed and the user banned. Final decision will be at the discretion of the Taipei Times.