National park rules for divers need to be clearer: lawmaker
Staff reporter, with staff writer
Kenting National Park must provide clearer rules for recreational diving, Democratic Progressive Party Legislator Chuang Ruei-hsiung (莊瑞雄) said, citing complaints from a diver whose name was given as A Hu (阿虎).
Park authorities fined an individual for allegedly diving at night without obtaining prior approval; a rule that was apparently unknown to the diving community, A Hu said.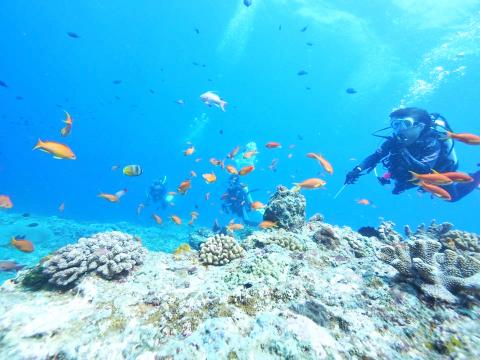 A diver explores waters off Pingtung County's Hengchun Township on Monday.
Photo: Tsai Tsung-hsien, Taipei Times
The individual accused of breaching the regulation posted a photograph of the fine notification online to alert other divers, A Hu said, adding that upon seeing the fine, he and his friends called Kenting National Park authorities to apply for permits.
However, officials were unable to process their applications, because they were "clueless about their own regulations," A Hu said.
Park authorities who manage diving sites generally encourage recreational diving, but the officials at Kenting want to punish divers without providing clear regulations or setting up a mechanism to issue permits, A Hu said.
Chuang said that the rule was written to help park authorities police illegal fishing, which is often disguised as recreational diving, but a more appropriate enforcement mechanism that does not penalize legal diving activities should be created.
Kenting National Park director Liu Pei-tung (劉佩東) said that the park requires divers to register and obtain approval for any undersea expedition, with the exception of activities directly related to conservation, research or training.
Those restrictions have always applied to night diving because many fishermen use it to cover their criminal activities, he said.
Night diving is a legitimate recreational activity according to the National Park Act (國家公園法) and Kenting National Park's regulations, Liu said, adding that park officials would discuss ways for divers to apply for permits as soon as possible.
Comments will be moderated. Keep comments relevant to the article. Remarks containing abusive and obscene language, personal attacks of any kind or promotion will be removed and the user banned. Final decision will be at the discretion of the Taipei Times.