Medicine man laments Sansia store's end
LEGACY LOST? Yuan Chun Grand Apothecary owner Chen Jui-sui said that 'it would be a shame for the world to lose the ancestral secret formulas' as the rules changed
The Yuan Chun Grand Apothecary in New Taipei City's Sansia Old Street (三峽老街) is to close its doors after serving the community for 163 years, proprietor Chen Jui-sui (陳瑞穗) said.
Chen, a 73-year-old resident of Sansia, said he has prepared and sold traditional Chinese medicine for 27 years and although he would like to see his heir succeed him, changes to the Pharmaceutical Affairs Act (藥事法) dashed his hopes.
The new regulations require all pharmacy owners — including owners of traditional Chinese pharmacies — to have a medical or pharmacist's degree, which his son does not have, Chen said.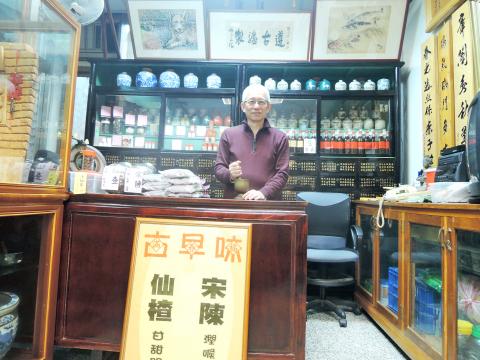 Owner Chen Jui-sui poses for a photograph at the Yuan Chun Grand Apothecary in New Taipei City's Sansia Old Street on Saturday.
Photo: Weng Yu-huang, Taipei Times
As a result, the pharmacy's chain of succession that continued unbroken since its founding in 1853 might end upon his death, he added.
Chen's ancestors migrated to Sansia from China during the reign of Emperor Jiaqing (嘉慶帝) of the Qing Dynasty, with the first two generations farming ducks.
The third generation used their savings to send Chen Tien-an (陳添恩) to Fuzhou in China's Fujian Province to be trained in medicine.
Chen Tien-an later founded the Yuan Chun Grand Apothecary in Sansia.
Since then, the pharmacy has passed through the hands of four family patriarchs, who played important roles in the community as healers and counselors.
For example, Chen Jui-sui's father served as a prefectural civil affairs official in the Japanese colonial government, as well as head apothecary, and was respected for his ability to resolve neighborhood disputes and address community issues.
Chen Jui-sui said he received schooling in traditional Chinese medicine from his father and grandfather, consisting of reading traditional texts on medical theory and herbology, and hands-on care of people who visited Yuan Chun for treatment.
When his father passed away in 1989, Chen Jui-sui inherited the pharmacy and its clientele, many of whom continue to visit the shop for minor ailments and complaints.
In the past, practitioners of Chinese traditional medicine were the only healers and had to be prepared to treat anything from gum infections and hemorrhoids to battlefield trauma from clashes between clans and villages, Chen Jui-sui said, adding that ancestral formulas include poultices for musket-shot wounds and injuries from blades.
Some of the formulas in use today include treatments for elderly patients with weak bladders, a condition he said could be countered with pork stir-fried in sesame oil.
He said the store's herbal fertility drugs had helped many couples to conceive, while he had helped people who wanted to conceive boys.
While he said he is satisfied with Yuan Chun's contribution to Sansia and the memories he has, Chen Jui-sui said he feels remorse over the possible demise of the pharmacy.
He said he hopes his 41-year-old son would marry a practitioner of traditional Chinese medicine so the store could remain in the family.
"It would be a shame for the world to lose the ancestral secret formulas," Chen Jui-sui said.
Comments will be moderated. Keep comments relevant to the article. Remarks containing abusive and obscene language, personal attacks of any kind or promotion will be removed and the user banned. Final decision will be at the discretion of the Taipei Times.