CWB says nation should brace for cold weather
The Central Weather Bureau (CWB) yesterday warned of single-digit temperatures across Taiwan except in Kaohsiung and Pingtung County in the days ahead as a cold front from the Asian continent moves toward the nation.
Describing the conditions as nearing the level of a "cold wave," the bureau issued a low-
temperature warning yesterday morning for 17 cities and counties.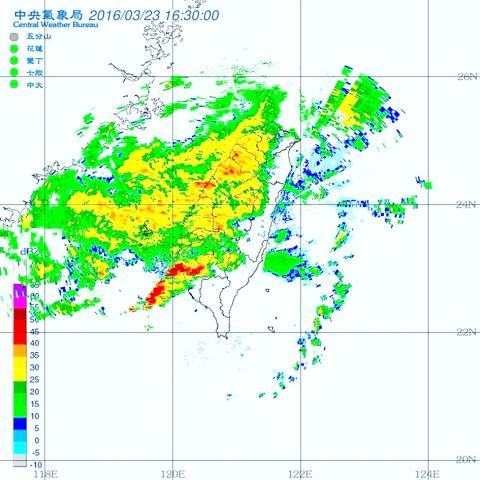 A meteorological map released yesterday by the Central Weather Bureau shows cloud clusters approaching the nation.
Photo courtesy of the Central Weather Bureau
"Temperatures would begin to fall throughout Taiwan late on Wednesday [yesterday]," the bureau said, with the approaching cold air mass expected to blanket Taiwan from today through Saturday.
The weather was expected to be at its coldest from tomorrow night through Saturday morning, when regions north of Miaoli and the outlying islands of Kinmen and Matsu are likely to experience lows below 10oC, it said.
Lows are likely to dip to 6oC in Taipei, 7oC in Taichung, 8oC in Tainan, 10oC in Kaohsiung and 12oC in Pingtung tomorrow night, the bureau said.
The cold of the coming days should be accompanied by rain through Saturday, as a wet-weather system moves in from the east, with the bureau putting the likelihood of rain in most parts of Taiwan at 100 percent until Saturday.
It said "apparent" temperatures — how cold it feels — would fall to 4oC in New Taipei City's Gongliao District (貢寮) and in Taichung's Wuqi District (梧棲); and 5oC in Keelung and Yunlin County's Mailiao Township (麥寮).
Starting Sunday, temperatures across Taiwan would remain low, but the rain should ease, the bureau said, adding that temperatures in areas north of Tainan, as well as in Kinmen and Matsu, would likely be less than 10oC from Sunday night to Monday morning.
Comments will be moderated. Keep comments relevant to the article. Remarks containing abusive and obscene language, personal attacks of any kind or promotion will be removed and the user banned. Final decision will be at the discretion of the Taipei Times.