Lin Yi-fang stops hunger strike outside DPP office
Activist Lin Yi-fang (林一方) yesterday announced the conclusion of his hunger strike outside of Democratic Progressive Party (DPP) headquarters, as civil groups condemned rumors that the party's draft cross-strait accords oversight act would not be applied to the cross-strait service trade agreement.
"There is still much for me to do for Taiwan in the road ahead, so I decided to stop the hunger strike before there is any serious damage to my health," said Lin, who had kept vigil outside of DPP headquarters for a week to protest the party's decision to avoid the use of "Taiwan" in draft legislation, instead using "cross-strait ties" to define relations with China.
Lin — a member of the Free Taiwan Party — was flanked by several party members and Taiwan Society North activists, shouting that oversight accords should be "unified" to protect national sovereignty and defend the nation.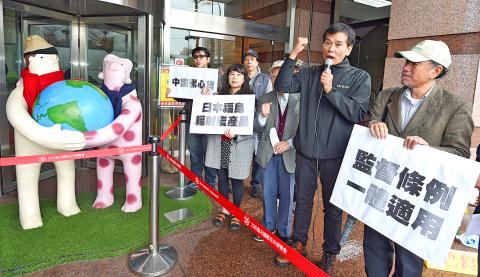 Pro-independence activist Lin Yi-fang, second right, yesterday concludes his protest against the Democratic Progressive Party's (DPP) proposed cross-strait oversight legislation, outside the DPP headquarters in Taipei.
Photo: Liu Hsin-te, Taipei Times
"My hunger strike has told the DPP that for them to use the supervisory regulations to downgrade Taiwan's sovereignty would shrink Taiwan's survival space just as my fasting harmed my body," Lin said, accusing the DPP of seeking to curry favor with China by compromising on terminology.
He said supervisory provisions for negotiations with China should be amended in the Act Governing Treaty Ratification (制定條約締結法) to make it clear that relations with China were the same as those with any other nation and to ensure adequate supervision of other outside agreements.
"Supervisory regulations should be unified instead of being directed at China — the Trans-Pacific Partnership (TPP) needs the public's supervision just as much as the service trade pact [with China]," he said, adding that new agreements with China should be welcomed as long they take place under the framework of cross-national ties.
In related news, the Economic Democracy Union yesterday issued a statement condemning rumors that the DPP draft supervisory legislation would not be applied retroactively to the controversial cross-strait service trade agreement with China, which is rumored instead to be put to a "yes" or "no" vote.
Comments will be moderated. Keep comments relevant to the article. Remarks containing abusive and obscene language, personal attacks of any kind or promotion will be removed and the user banned. Final decision will be at the discretion of the Taipei Times.