Airport returns stones illegally taken from beaches
About 100kg of stones confiscated at Taiwan Taoyuan International Airport from tourists who had illegally taken them from beaches in Taitung have been returned to the seashore, the East Coast National Scenic Area Administration said.
Stones bearing distinctive stripes found on the beaches of Taitung's Sansiantai (三仙台) and Basiandong (八仙洞) often fall prey to foreign tourists who pick up the stones for souvenirs, the agency said, adding that Chinese tour groups were the most frequent offenders.
However, many do not get past customs, with officials confiscating them when detected.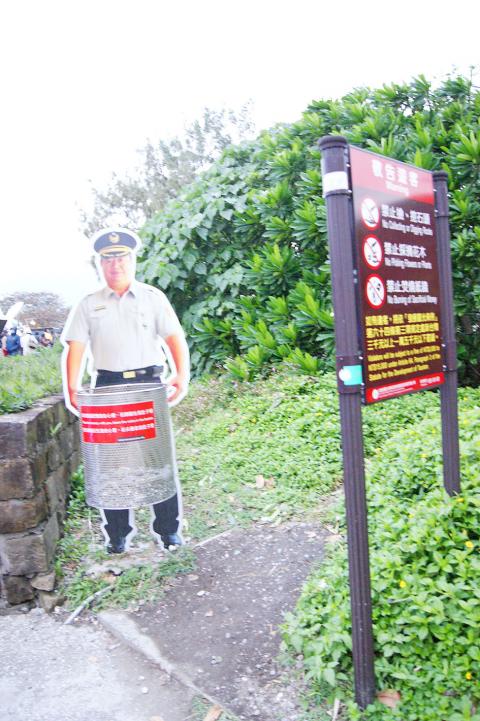 A cardboard cut-out of an East Coast National Scenic Area Administration official holding a recycling bin, asking tourists to return any stones picked up on the beach, is pictured on Taitung's Sansiantai beach on Monday.
Photo: Huang Ming-tang, Taipei Times
Taoyuan Airport officials recently decided to return, for the first time, the entire trove — weighing about 100kg — to Taitung, agency deputy director Lin Wei-ling (林維玲) said.
The agency had sorted the stones — commonly known as "Meifan rocks" (麥飯石) — it received from the airport and returned them to Basiandong, Lin said.
People taking stones from Taitung's beaches may be charged with damaging famous landmarks and natural resources, as stipulated in Article 62, Paragraph 1 of the Act for the Development of Tourism (發展觀光條例), the agency said.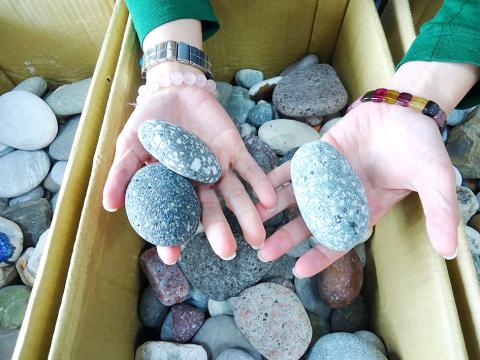 A woman on Monday holds up stones illegally taken from beaches in Taitung.
Photo: Huang Ming-tang, Taipei Times
Violators may be fined a maximum of NT$500,000 (US$15,460) and be held legally responsible for restoring the damage they caused, it added.
Lin said the agency is stepping up patrols of the area and alerting tourists to avoid further damage to the beaches.
She also urged local travel agencies and tourists to follow the law.
"We must protect natural resources together to keep the east coast's natural beauty in perpetuity," she said.
Comments will be moderated. Keep comments relevant to the article. Remarks containing abusive and obscene language, personal attacks of any kind or promotion will be removed and the user banned. Final decision will be at the discretion of the Taipei Times.