Taipei passes urban renewal projects bylaw
The Taipei City Government yesterday passed a bylaw on government-led urban renewal projects that stipulates a task force comprising officials and opinion leaders is to be assembled to settle disputes and determine whether the city should step in and conduct demolitions.
The regulations were passed yesterday morning at a city policy meeting presided over by Taipei Mayor Ko Wen-je (柯文哲).
Taipei City Government Department of Urban Planning Commissioner Lin Jou-min (林洲民) said the bylaw was passed in the spirit of an earlier version promulgated in 1983 to facilitate urban renewal projects as lawmakers seek to reach an agreement over how to amend the Urban Renewal Act (都市更新條例).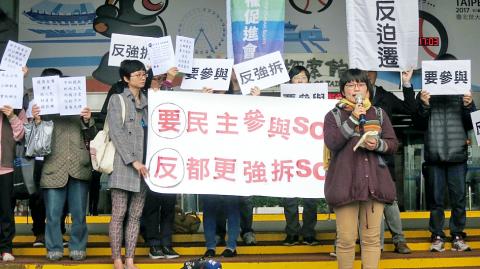 Members of 14 civic groups protest outside Taipei City Hall yesterday over the city government's handling of urban renewal projects.
Photo: Yu Pei-ju, Taipei Times
Lin said the bylaw would ensure transparency in efforts to calculate property owners' stakes, thereby resolving disputes over "many urban renewal projects mired in communication problems," many of which he said had lasted for more than a decade.
According to the new law, urban renewal projects are to be divided into four categories: "government-led," which denotes projects spearheaded by the city government to rejuvenate decrepit communities, such as the Nanjichang community (南機場) in Wanhua District (萬華); "handovers," in which case property owners entrust a project to the city government to settle disputes over the distribution of their stakes in a property; "counseling and assistance," in which people living in "sea-sand buildings" — structures whose concrete contains cheap, ocean-sourced sand — can apply for if they seek the city's help choosing a construction firm to rebuild their homes; and projects that might require the city's "intervention to enforce demolition," which stipulates that the city government can be called upon when a project's contractor has obtained a demolition permit, but cannot conduct work due to opposition by property owners, he said.
Lin said that the city is reviewing a roster of 33 officials and members of civic groups, from which eight or nine people would be selected as members of the task force.
The remark prompted media queries over the task force's objectivity, given its small staffing compared with other committees contracted by the city — for instance the Cultural Assets Review Committee, which has between 15 and 19 members.
Lin said that the city government would deliberate over the task force's staffing, while representation officials and opinion leaders would make an announcement next month.
He denied accusations that the bylaw would grant the city the power to forcibly tear down people's homes in a scenario where the preferences of a few were pitted against the benefits of a majority, saying that the task force would operate in a fair and open manner before conclusions are reached as to whether authorities should intervene.
Questions were also raised over the legitimacy of the bylaw, which states that the city government could step in to push projects "in consideration of public interests," given that projects initiated by the public are always aimed at boosting public interests.
Taipei Urban Regeneration Office Director Fang Ting-an (方定安) said that the phrasing was meant to address urban landscape, economic spinoffs and the expectations of all stakeholders.
Fang said on the sidelines of the press conference that people living in apartment buildings cannot take part in government-led urban renewal projects, as such projects either involve entire communities or areas spanning several blocks.
Prior to the announcement, a group of campaigners protested in front of the Taipei City Hall in an attempt to block the passage of the bylaw, which they said could be aimed at benefiting construction firms.
The protesters criticized the city's "forcible" eviction of residents living on plots of land zoned for urban renewal — under Article 36 of the Urban Renewal Act (都市更新條例) — putting property owners, tenants, stores and homeless people at a disadvantage.
Due to the design of rules covering the conversion of deeds to properties after urban renewal projects, property owners who hold smaller portions of a plot of land might end up being displaced after reconstruction, while a placement project for homeless people is missing, they said.
Comments will be moderated. Keep comments relevant to the article. Remarks containing abusive and obscene language, personal attacks of any kind or promotion will be removed and the user banned. Final decision will be at the discretion of the Taipei Times.