Lukang resident step closer to being offered internship
Wen Yi-ching (溫宜菁), a 29-year-old woman from Changhua County's Lukang Township (鹿港), who applied for an internship in the Northern Mariana Islands, has advanced to the second stage of the open selection process after submitting a video featuring her acrobatic prowess.
The one-week-long "tourism ambassador" internship in the Taiwanese branch of the Marianas Visitors Authority — the tourism authority of the US Commonwealth of the Northern Mariana Islands — offers a salary of NT$60,000 and an opportunity to work in what the authority has billed as "the most awesome secret garden of American territories."
The internship is to be awarded to one of the three finalists to be selected by netizens through online voting on the competition's Web site, which opened on Tuesday.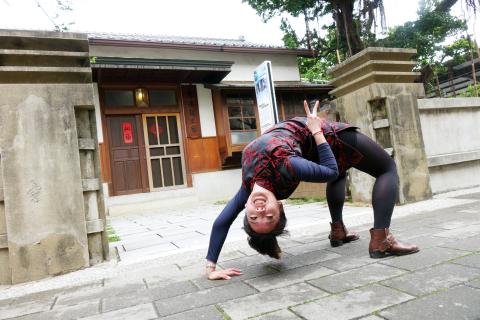 Wen Yi-ching, a resident of Changhua County's Lukang Township, on Monday displays her flexibility outside the Museum of Lukang Township History to attract online support for her application for an internship in the Northern Mariana Islands. The contest is being held by the Marianas Visitors Authority and e-commerce platform KKday.
Photo: Liu Hsiao-hsin, Taipei Times
For her video, Wen covered a distance of 20m along a street in Lukang while contorted in a yoga wheel pose and verbally presenting her application, a maneuver that landed her in the second stage of the application contest along with 14 others.
Wen said she was able to perform the feat because she has been an avid dancer since her childhood, adding that she entitled her video The Girl on Her Waist — a pun for "kao yao" (靠夭), an expression meaning amusement and exasperation in Hoklo (commonly known as Taiwanese) — to catch the audience's attention.
Wen said she has traveled to Central and South America as a backpacker, worked in a travel agency, and three years ago was selected by the Tourism Bureau to be its goodwill ambassador to South Korea.
Since returning to Lukang, she has been working as a shipping agent for a clothing factory owned by the Wen family, but the internship is a tempting opportunity, she said.
"I have the urge to do something crazy once a year," Wen said, adding that she liked "constant self-challenges."
Wen on Monday performed the wheel pose outside the Museum of Lukang Township History for this report.
Also present was Lukang Township Mayor Huang Chen-yen (黃振彥), who voted for Wen using his smartphone after attempting to imitate the pose.
"It is quite difficult," Huang said.
Comments will be moderated. Keep comments relevant to the article. Remarks containing abusive and obscene language, personal attacks of any kind or promotion will be removed and the user banned. Final decision will be at the discretion of the Taipei Times.