DPP lawmakers urge unconstitutional regulations be eliminated from schools
Democratic Progressive Party (DPP) legislators on Monday criticized Taipei First Girls' High School, saying its regulations against insulting or verbally abusing the president were unconstitutional and "remnants of an autocratic era" and demanding that the Ministry of Education purge all regulations that violate freedom of speech and thought from schools nationwide.
DPP Legislator Cheng Li-chun (鄭麗君) said she had demanded that the ministry look into regulations at schools nationwide that are inappropriate or contravene the Constitution.
After receiving a response from the ministry saying there were none, she asked whether Taipei First Girls' High School was intentionally overlooked.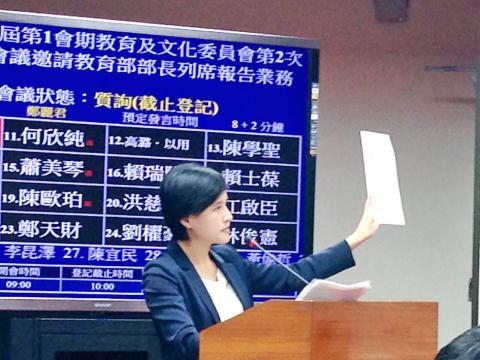 Democratic Progressive Party Legislator Cheng Li-chun holds up a document at a news conference in Taipei on Monday.
Photo: Lin Hsiao-yun, Taipei Times
The Criminal Code does not stipulate that verbally attacking or insulting the head of state is a crime, she said at a legislative committee hearing, but some schools do have such regulations, which limits students' participation in public events.
The president, regardless of who that is, is the highest-level civil servant in the nation, and, as such, any criticism of the president is not directed at the individual, but rather at how the individual is using the power of the office, Cheng said, adding: "The [Taipei First Girls' High School] regulation must go."
Cheng cited a 2008 incident in France, in which a man named Herve Eon raised a sign during then-French president Nicolas Sarkozy's visit to the French town of Laval that read: "Casse-toi pov' con," or "get lost, you poor sod." Sarkozy filed charges of insulting the president against Eon, who was given a symbolic 30 euro (US$33) fine.
The European Court of Human Rights in 2013 ruled that the case violated Eon's freedom of expression, and the French legislature abolished the law that made insulting the head of state a crime in July that year.
Minister of Education Wu Se-hwa (吳思華) said the ministry has already finished its investigation of school regulations and would speak with the Taipei Bureau of Education, which supervises the high school.
In response, Taipei First Girls' High School Department of Student Affairs director Yeh Chung-ju (葉中如) said the school two years ago had provided the ministry with an explanation of the regulation: The school intends to teach its students not to slander or hurl verbal abuse at others.
The school has changed its regulations so that punishment is given out only in cases of "malignant verbal abuse" and students repeatedly violating the rule, Yeh added.
The school would initiate the process for revisions if the ministry or bureau were to give it an explicit directive to do so, the school said, but added that it only rarely observed students verbally abusing the head of state with ill intent.
The bureau said regulations were decided by schools and it would not meddle as long as proper democratic procedures were observed when generating consensus on regulations.
If the ministry was to order a review, the bureau would comply, it added.
However, some bureau officials, on condition of anonymity, said that the head of state represents the nation and should be accorded a basic level of respect, adding that schools are educational institutions that teach students to discern between right and wrong and how to conduct themselves.
Students should not be granted unlimited freedom in the name of democracy or guaranteeing constitutional liberties, they said.
However, Cheng pointed to a Feb. 26 incident involving military instructors at National Chengchi University as evidence that more efforts must be made to stamp out "the remnant of authoritarian rule" in schools.
In that incident, pamphlets of 228 Incident victims' life stories posted by a student club on bulletin boards and on the statue of Chiang Kai-shek (蔣介石) in the lobby of the university library were ripped off by the university's military instructors and security guards, a move widely seen by the group as an attempt to clamp down on freedom of speech.
Comments will be moderated. Keep comments relevant to the article. Remarks containing abusive and obscene language, personal attacks of any kind or promotion will be removed and the user banned. Final decision will be at the discretion of the Taipei Times.