Macaques thriving in conservation parks
While public opinion on Taiwanese macaques stands divided over whether they are animals worthy of protection or a scourge on farmers, two locations thrive on the tourism generated by macaque populations.
Uncle Kuo's Taiwanese Macaque Park behind a camping area on Dakeng Mountain (大坑山) in Taichung City's Beitun District (北屯) is owned and operated by Kuo Tzu-chi (郭子淇).
The 55-year-old said he grew up in a farming family in the Dakeng area and it was customary for children to look out for the monkeys and try to chase them away from the fields.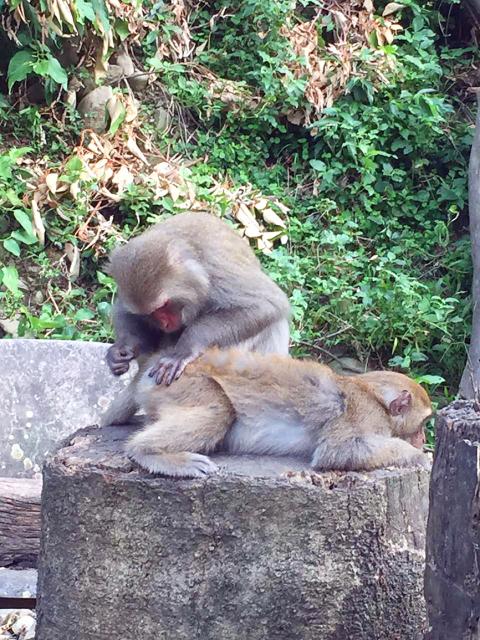 Two macaques in Uncle Kuo's Monkey Paradise groom each other on Jan. 4.
Paradise groom each other on Jan. 4. Photo: Hsu Kuo-chen, Taipei Times
Kuo said he had always chased the monkeys away as a child, until one winter he saw a skeletal female macaque unable to feed her young.
Kuo said that from that time on he did not chase the monkeys away and instead began to leave yams outside for them to survive through the winter.
He said as an adult he worried that the macaques living in mountain areas might become aggressive because of tourists giving them food, adding that it was not helping the animals survive in the wild.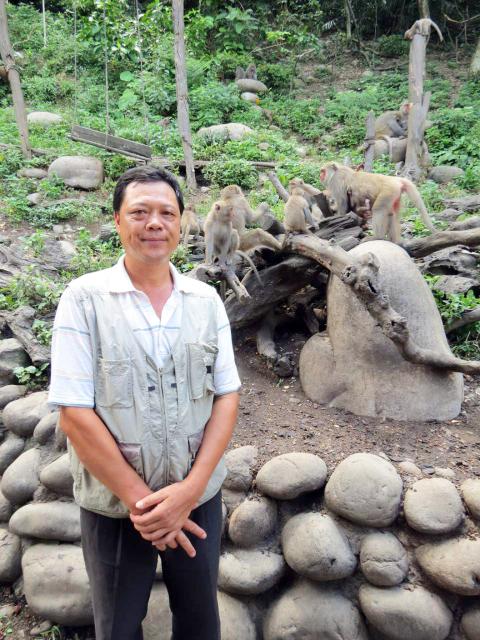 Kuo Tsu-chi is seen at his Monkey Paradise on Jan. 4.
Photo: Hsu Kuo-chen, Taipei Times
About a decade ago, he quit his job and founded Uncle Kuo's Monkey Paradise to care for the macaques.
He said he gradually learned how to communicate with the animals by whistling.
The park is situated in a natural gathering spot for the macaques, which once had a population of more than 100 before an earthquake on Sept. 21, 1999.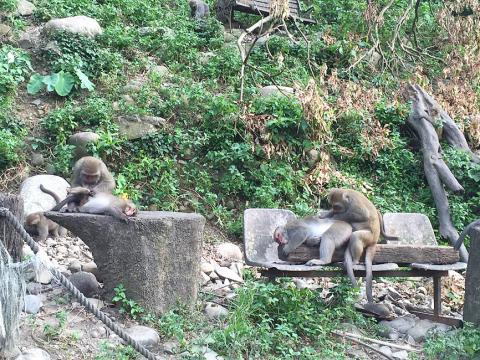 Macaque display their natural behaviors in Uncle Kuo's Monkey Paradise on Jan. 4.
Photo: Hsu Kuo-chen, Taipei Time
Kuo said he tries to interfere as little as possible and gives them food only in fixed locations at set times so the macaques would continue living in their natural habitat.
Separately, the Wushan (烏山) Macaque Conservation Area, founded by Lin Ping-hsiu, has been another safe haven for wild macaques for more than 27 years.
The Forestry Bureau commissioned a National Taiwan University team to help implement a controlled birth program in the area, which resulted in about 300 macaques.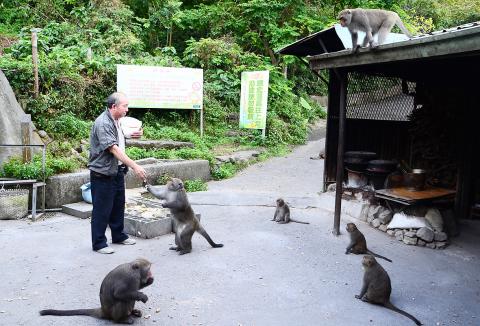 Lu Chi-lung feeds macaques in the conservation area to reduce the chance of them leaving the place and stealing food from the nearby residents on Jan. 4.
Photo: Wu Chun-feng, Taipei Times
The conservation area, located in the Donghe Borough (東和里) in Tainan City's Nanhua District (南化), is on private land owned by Lin, which has hiking paths and pavilions.
Lin said he founded the conservation area out of concern for the macaques, who were hunted before government policies listed them as a protected species.
Buying several macaques from hunters in 1988, Lin said he released them into his private land so they could prosper, adding that he also set up a vending stall where he sold peanuts and bananas to visitors to feed the macaques.
Lin, 87, said he has decided to retire and has handed over the management of the conservation area to his son-in-law, Lu Chi-lung (盧祈龍).
Lu said that the area has three main macaque troops, adding that the troops have started to drive away the weaker and older monkeys to form a new troop.
However, the conservation zone has caused controversy in the area. Farmers and residents complain of stolen fruits and noise pollution.
However, tourists have complemented the zoning regulations which allows intimate experiences with macaques.
The Tainan Bureau of Agriculture said that the population of macaques living in the conservation zone is a controlled population with most males undergoing surgical sterilization.
The bureau urged residents not to approach the macaques, which could lead to injuries.
Comments will be moderated. Keep comments relevant to the article. Remarks containing abusive and obscene language, personal attacks of any kind or promotion will be removed and the user banned. Final decision will be at the discretion of the Taipei Times.