Madonna drapes self in ROC flag, angers Chinese
'MADONNA SUPPORTS TAIWAN': Chinese netizens responded to photographs online with comments such as 'shut up, people of Taiwan province of China'
Pop diva Madonna has waded into the war of words over Taiwan after draping herself in the nation's flag, sparking ire in China.
The Chinese-language Apple Daily and Liberty Times newspapers ran photographs of Madonna with the flag over her shoulders as she sang an encore on Thursday on the Taipei leg of her global Rebel Heart Tour.
The move was greeted enthusiastically by many on Taiwanese Internet forums, who saw it as a boost to their quest to protect the nation's sovereignty in the face of increased influence from Beijing.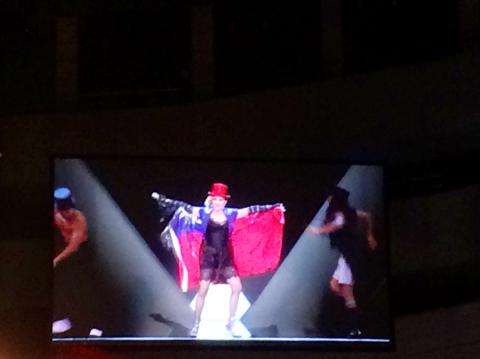 A screen shows Madonna wearing a Republic of China national flag while performing her song Holiday at the Taipei Arena on Thursday night.
Photo: Tsou Nien-tsu, Taipei Times
"Madonna supports Taiwan with her acts. Taiwan loves Madonna too," one message on Apple Daily's Web site read.
However, posts on China's Twitter-like Weibo responded angrily.
"Is Taiwan a country? I am laughing to death ... you are just a region," one said.
"Madonna draped the flag and you think you are going to be recognized by the UN? So funny," another said, referring to Taiwan's lack of international status.
China supporters also voiced their anger on Madonna's Instagram account, responding to a picture that showed her face superimposed on a blue sun motif similar to the white sun on Taiwan's flag, attracting 2,000 messages.
"Shut up, people of Taiwan province of China," one message read.
"Madonna was just creating a talking point and some Taiwanese people thought she was speaking up for Taiwan independence? So funny," another said.
Others hit back at the critical Instagram posts.
"Someone holds the flag and you are barking like a dog. So low class. If you like China so much, go back to use your Weibo," one comment read.
The Asian leg of Madonna's Rebel Heart Tour includes dates in Hong Kong and Macau, but not mainland China.
There was no immediate comment from local promoters or Madonna's representatives following Thursday's concert.
Last year, US singer-songwriter Katy Perry caused a stir in both Taiwan and China when she appeared on stage in Taipei draped in a Republic of China flag, while donning a gold dress adorned with sunflowers — a symbol of anti-China student protests in Taiwan in 2014.
Several Taiwanese entertainers have also got into trouble for waving the Taiwan flag abroad.
Last month, 16-year-old K-pop singer Chou Tzu-yu (周子瑜), a Taiwanese national, was forced to apologize for waving the flag in an Internet broadcast, which stoked online anger in China and accusations that she was a pro-independence advocate.
Her video apology went viral on the day of Taiwan's presidential and legislative elections last month and some analysts believed may have cost the Beijing-friendly Chinese Nationalist Party (KMT) hundreds of thousands of votes.
The Democratic Progressive Party won by a landslide, with the KMT's rapprochement with Beijing a major factor in its defeat.
Comments will be moderated. Keep comments relevant to the article. Remarks containing abusive and obscene language, personal attacks of any kind or promotion will be removed and the user banned. Final decision will be at the discretion of the Taipei Times.