Hualien tunnel to partly reopen
INCREASED WATER FLOW: The Hualien Forestry District Office said that the Wu River should be avoided while it conducts an operation to clear sediment from rivers
Work to clear a landslide that occured on Jan. 27 near the Juilu Tunnel (錐麓隧道) on the Central Cross-Island Highway (Provincial Highway No. 8) is expected to result in a single lane cleared by tomorrow, Lunar New Year's Eve, the police department in Hualien County's Sincheng Township (新城) said yesterday.
The landslide had resulted in debris 110cm wide blocking a section of road for east-west traffic, police said, adding that engineers had managed to make 90cm of headway on the Luoshao (洛韶) section of the highway.
The blockage had partially isolated the area from Sibao (西寶) to Tiansiang (天祥) in Hualien County for 10 days, police said, adding that their colleagues at the Tiansiang Police Station would be on duty for more than a week before being relieved.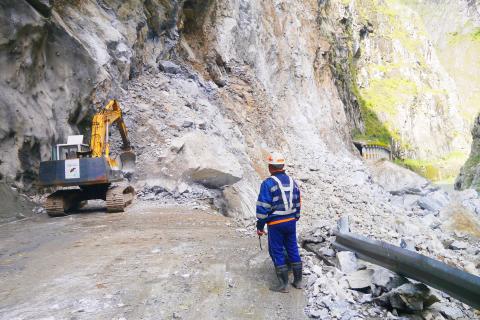 An engineer inspects landslide clearing progress on the Luoshao section of the Central Cross-Island Highway (Provincial Highway No. 8) in Hualien County yesterday. One-way traffic is expected to resume tomorrow.
Photo: Wang Chun-chi, Taipei Times
While the roadway was blocked, supplies were sent north on an indirect route through Expressway No. 7, Luoshao section clearance acting section chief Yang Li-an (楊力銨) said.
"We estimate that work to clear at least one lane will be completed by Lunar New Year's Eve," Yang said.
"The main obstacle until now had been large boulders on the road, which had to be shattered from both sides," Yang added.
"The roads will only be reopened to the public after we are sure that all debris has been cleared and that all supports are solid," Yang said, adding that small rocks have fallen on the road while clearing work has been under way.
All hostels and hotels in mountainous areas have been closed, Tiansiang Police Chief Wang Chu-kuang (王祝光) said, adding that police officers have been turning to instant noodles for food, while some time-sensitive documents have been sent out on unsafe roads.
The Sincheng Police Department called on the public to respect and cooperate with police and crews working to clear the roads, adding that any travelers who need to use the Central Cross-Island Highway should consult the Directorate-General of Highways.
Meanwhile, as part of road clearing efforts on the Luoshao section, workers from the Hualien Forestry District Office are to clear sediment from nearby rivers by increasing water flow, office Director Wu Kun-ming (吳坤銘) said.
While the operation is not expected to affect or endanger townships downstream, the increased water flow poses its own dangers, Wu said, warning the public to avoid activities in the Wu River (霧溪) until further notice.
Comments will be moderated. Keep comments relevant to the article. Remarks containing abusive and obscene language, personal attacks of any kind or promotion will be removed and the user banned. Final decision will be at the discretion of the Taipei Times.