NPP pushes for presidential power transfer reforms
The New Power Party (NPP) hopes to see reforms governing presidential power transfer passed by the end of the month, party Executive Chairman Huang Kuo-chang (黃國昌) said yesterday, adding that the party would officially present its draft bill as soon as the new legislative session opens.
At a legislative hearing called by the party, Huang said the urgent need to institutionalize presidential power transfer was the main reason the party had sought for the legislative session to start immediately after the Lunar New Year.
"The new legislature should not have the attitude that it wants to take a leisurely vacation before going to work in March," he said.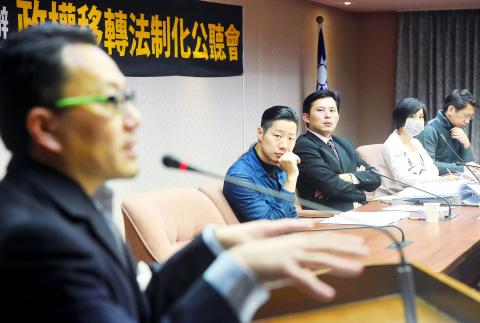 New Power Party (NPP) Executive Chairman Huang Kuo-chang, third left, NPP Legislator Freddy Lim, second left, and other NPP lawmakers hold a public hearing in the Legislative Yuan in Taipei yesterday on legislation governing the transfer of power.
Photo: Liao Chen-huei, Taipei Times
The party — which has been pushing to begin legislative meetings since winning seats for the first time in last month's election — was overruled by other parties in cross-caucus negotiations, which scheduled Feb. 19 as the beginning of the new legislative session.
Huang slammed President Ma Ying-jeou's (馬英九) administration for moving the presidential election ahead by several months to last month, accusing Ma of lengthening the time between elections and power transfer to serve his personal political interests.
While the Ma administration's 2012 decision to begin holding the presidential election along with legislative elections was promoted as an attempt to cut costs, critics claimed that it was intended to allow Chinese Nationalist Party (KMT) legislators to benefit from Ma's "coat tails" during his re-election bid.
While the Legislative Yuan convened earlier this month, Ma's term in office does not expire until May 20, leading to controversy over the extent of his administration's powers in the interim period.
While Ma's administration has put several controversial policies on hold pending the transfer of power, he has rejected calls to act as a "caretaker administration" for Democratic Progressive Party (DPP) president-elect Tsai Ing-wen (蔡英文), leading to calls for the newly-elected legislators to pass legislation institutionalizing rules for power transfer.
Huang criticized previously proposed power transfer legislation for being incomplete, saying that finding the right balance for any law limiting the power of "caretaker" presidential administrations would be "extremely difficult," because it would likely be subject to a constitutional challenge.
His call for new legislation drew support from several academics.
"Because we do not have a clear system for power transfer, the dark side of human nature faces a greater temptation relative to other nations," National Chengchi University professor of public administration Chuang Kuo-rong (莊國榮) said, adding that an outgoing administration might seek to "spend down" budgeted funds in an attempt to reduce the flexibility of a new administration.
He added he was concerned Ma might "charge ahead" on risky foreign policies in an effort to secure his legacy.
"Anyone who calls for an early election should allow for an early transfer of power," he said, adding that Ma should agree to legislation mandating that presidential transfer of power occur on March 20.
Meanwhile, both the Presidential Office and the DPP confirmed that the first meeting between the two sides over the transfer of power is scheduled for Feb. 19
Presidential Office spokeswoman Ma Wei-kuo (馬瑋國) said that Presidential Office Secretary-General Tseng Yung-chuan (曾永權) and DPP Secretary-General Joseph Wu (吳釗燮) agreed to hold a 10am meeting for formal talks on the power transition.
Details, such as the agenda and the participants involved, are to be confirmed in bilateral discussions after the Lunar New Year holiday, the DPP said in a news release.
Additional reporting by CNA
Comments will be moderated. Keep comments relevant to the article. Remarks containing abusive and obscene language, personal attacks of any kind or promotion will be removed and the user banned. Final decision will be at the discretion of the Taipei Times.