Traditional stores to offer holiday bargains
BUSY BEE: Taipei's mayor promoted shopping at the Dihua market, and fielded questions from i-Voting on government policy to the Maokong Gondola's new fares
With a little more than two weeks to the Lunar New Year holiday, the Taipei City Government yesterday encouraged people to visit traditional commercial districts across the city to shop for discounted merchandise.
Taipei Mayor Ko Wen-je (柯文哲) invited people to shop at a list of commercial districts selected by the Taipei Office of Commerce during the holiday, where stores will be offering discounts starting today.
Ko said he would be giving away "fortune money" — an NT$1 coin placed inside a red bag resembling both a Japanese-style lucky charm and a fragrance sachet commonly worn around the neck by Taiwanese during the Mid-Autumn Festival — from 5pm today at the Dihua (迪化) commercial district.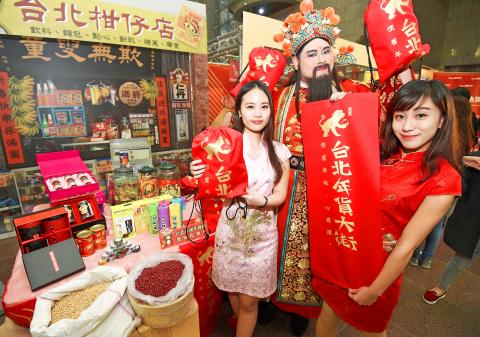 A man dressed as the God of Wealth and two women hold up a banner and bags to promote this year's Taipei City New Year Market yesterday at Taipei City Hall.
Photo: Liao Chen-huei, Taipei Times
The bags sport an emblem of a golden monkey to wish people a "smooth" Year of the Monkey.
The Dihua market is a famous shopping destination in Taiwan during the Lunar New Year holiday. Among the goods from the market displayed yesterday were adzuki beans, soy beans, candies and canned abalone.
In other news, questions were raised over a poll conducted as an "i-Voting" event to gauge Taipei residents' satisfaction with city government policies.
After Ko announced the poll on Thursday, some Taipei city councilors said that the poll could become a mobilization contest among city government agencies, which will be vying for the top spot before the results are announced next month.
Some agencies have gone as far as to solicit support from reporters.
When asked by reporters to comment on the issue, Ko said: "Any agency caught vote-rigging will be doomed."
He said that people are required to enter their e-mail address, check their inbox for a verification code and type in the verification code and another code before they are allowed to vote.
The authentication process for i-Voting is already more complex than when it was first introduced, Ko said.
He said that he would solve the problem of potential vote-mobilization by asking the city government's Department of Information Technology to make the authentication stricter by requiring voters enter their national identification number.
Asked whether he is concerned that a sharp increase in Maokong Gondola fares — set to take effect next month — would affect ridership, Ko said the fares could be adjusted downward if passenger volumes decrease significantly.
"According to our research, most people will only take it once," he said.
This year's Lunar New Year holiday begins on Feb. 6 and runs through Feb. 14.
Comments will be moderated. Keep comments relevant to the article. Remarks containing abusive and obscene language, personal attacks of any kind or promotion will be removed and the user banned. Final decision will be at the discretion of the Taipei Times.