Exhibition shows importance, rich variety of grasses
An exhibition on grasses and cereals and their uses in daily life opened yesterday at the Endemic Species Research Institute in Nantou County.
Poaceae, or grasses, have more than 10,000 species and can be seen across various geographies, as they cover one-third of the Earth's land mass, institute researcher Chen Chih-hui (陳志輝) said.
Well-known poaceae include bamboo, sugarcane, lawn and ornamental grasses, and cereal crops such as maize, wheat, rice, barley and millet, Chen said, adding that they provide more than 40 percent of the calorie needs of the global population.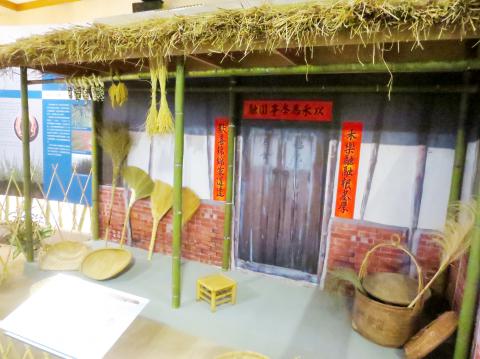 A mock-up of an early farmer's house, complete with a thatched roof, forms part of an exhibition on grasses and cereals at the Endemic Species Research Institute in Nantou County yesterday. The exhibition, which started yesterday, runs through Nov. 30.
Photo: Liu Pin-chuan, Taipei Times
"Taiwan is situated where the tropical zone and temperate zone converge, so varieties of poaceae native to different climate zones can be seen here, and Taiwanese make good use of them," he said.
Showing a basket weaved with bamboo fibers, he said such baskets are called gam-a (柑仔) in Hoklo (commonly known as Taiwanese) and gave the traditional grocery store its name gamadiam (柑仔店), where merchandises and fresh produce were put on the baskets either for display or for drying.
The exhibition includes a collection of rice species cultivated in the nation, as well as other grasses that are an integral part of Taiwanese's daily life.
In a yard designed in the traditional Hokkien architecture, necessities made with grasses are displayed, such as a thatched roof, brooms, furniture and farming tools made with sorghum, silver grass, millet and bamboo.
Poaceae are a rising star in the biofuel industry, as large species of silver grass have been studied and used for power generation, Chen said.
Elephant grass, one of the large, foreign silver grasses that has spread across the nation, is used to make biofuel, and Brazil built the first power plant that runs solely on elephant grass biomass, as the species has higher biofuel efficiency than sugarcane, he said.
"Human civilization relies on domesticating different poaceae species, but people too often ignore the unpresuming plants and turn their attention to woody plants, so the exhibition was organized to reintroduce the public to the familiar plants," he said.
The exhibition is to run through the end of November.
Comments will be moderated. Keep comments relevant to the article. Remarks containing abusive and obscene language, personal attacks of any kind or promotion will be removed and the user banned. Final decision will be at the discretion of the Taipei Times.