University election voided due to low voter turnout
A by-election on Jan. 4 to elect a president for the student union at Tainan's National Cheng Kung University was invalidated due to low voter turnout.
Political science student Lin Yi-ying (林易瑩) and her running mate, Wu Hsing-ju (吳馨如), a Taiwanese literature student, were the only candidates in the race, advocating gender equality and grassroots democracy.
The poll results released by the student government showed that while Lin won 68.17 percent of the votes, voter turnout for the election was 5.7 percent, below the 10 percent threshold required for a valid election, rendering the vote null and void.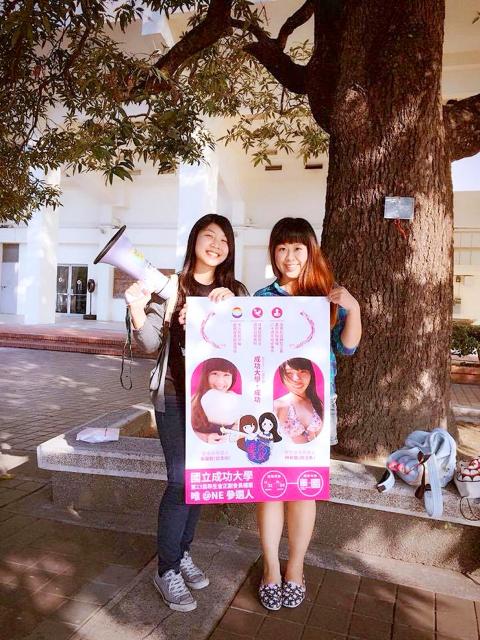 National Cheng Kung University student union presidential candidate Lin Yi-ying, left, and her running mate, Wu Hsing-ju, pose with a campaign poster in an undated photograph.
Photo courtesy of Wu Hsing-ju
The result meant that acting president Lin Ming-yi (林明儀) is to serve out the rest of the former president's term, according to a post on the student union's social media site.
Although there were no other candidates, Lin Yi-ying and Wu said they had aggressively campaigned for election.
Lin Yi-ying, who participated in the Sunflower movement and the occupation of the Legislative Yuan's main chamber in 2014, had received endorsement from Lin Fei-fan (林飛帆), who was among the leaders of the movement and is a Cheng Kung University alumnus. She also received praise from Democratic Progressive Party Tainan City Councilor Lee Tui-chih (李退之) in an online post that Lee wrote, Lin Yi-ying said.
She said she had contacted professors and student activists from other universities in northern Taiwan in a bid to create a Cabinet.
In the hope of increasing voter enthusiasm, she had experimented with unconventional campaign strategies, such as printing flyers that featured herself in a bikini and Wu holding cotton candy, Lin Yi-ying said.
Some students criticized her for "showing too much skin and too little dignity," Lin Yi-ying said, adding that she dismissed such concerns.
"As long as it makes me feel comfortable, it is no one's business whether I wear a bikini," she said.
"What you wear on the outside does not reflect your substance," Wu said, adding: "[President] Ma Ying-jeou (馬英九) is a well-dressed man; what does he have to show for his accomplishments?"
Their struggle was against voter apathy, Lin Yi-ying said, adding that her message to her possible opponents was: "If you are angry at us, why complain when you can vote against us?"
"Disagreements need to be openly expressed if we are to build dialogue," Wu said.
The election's results would not deter their political stance on and off campus, the duo said, adding that they would vote in tomorrow's presidential and legislative elections.
Comments will be moderated. Keep comments relevant to the article. Remarks containing abusive and obscene language, personal attacks of any kind or promotion will be removed and the user banned. Final decision will be at the discretion of the Taipei Times.