Two Kaohsiung students invent new selfie stick
Two Kaohsiung fifth-graders on Monday said that their motivation to invent an award-winning selfie stick that can be operated with one hand was to make the popular gadget more convenient to use.
Kaohsiung Dongguang Elementary School students Yen Po-cheng's (顏伯丞) and Wang Tai-hsiang's (王泰翔) invention, which won a gold medal at the International Exhibition for Young Inventors in November last year, enables people to extend the stick with only one hand.
People tend to use selfie sticks to take pictures of themselves when traveling, but they usually need to extend them to their full length with both hands, Yen said.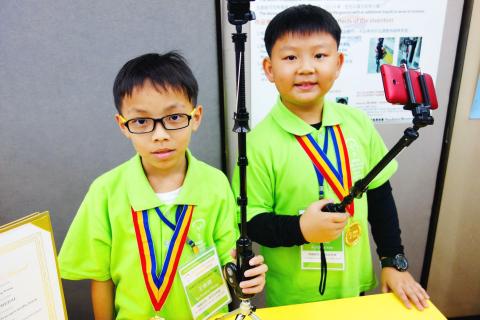 Kaohsiung Dongguang Elementary School students Wang Tai-hsiang, left, and Yen Po-cheng hold up their award-winning selfie sticks at a ceremony held by the Ministry of Education on Monday.
Photo: Wu Po-hsuan, Taipei Times
That can be challenging if they are weighed down by bags or luggage, so the students wondered what would happen if umbrella technology was applied to make selfie sticks more convenient, Yen said.
They combined a telescoping umbrella shaft with a selfie stick that enabled the stick to expand automatically with a single touch, and an award-winning product was born.
Yen's and Wang's achievement was recognized at a ceremony held by the Ministry of Education on Monday to honor Taiwanese students who won gold medals at last year's exhibition, which took place in New Taipei City from Nov. 16 to Nov. 18.
The annual international event, founded by the Japan Institute of Invention and Innovation in 1904, drew teenagers from 11 nations and areas who presented a total of 107 works.
Taiwan's team won 10 of 17 gold medals bestowed during the event, along with 14 silver medals and 15 bronze medals.
The only other time Taiwan hosted the event was in 2008.
Comments will be moderated. Keep comments relevant to the article. Remarks containing abusive and obscene language, personal attacks of any kind or promotion will be removed and the user banned. Final decision will be at the discretion of the Taipei Times.