New Year comic strip focuses on bipolar disorder
"It's like a time bomb; it doesn't need any reason, it just 'happens.'"
That is a line from Internet comic artist DeluCat's latest strip, published on the first day of this year.
The strip by DeluCat — which had been shared by 35,000 of the artist's followers in less than a day — is a first-person narrative of a sudden attack of depression afflicting an otherwise happy person.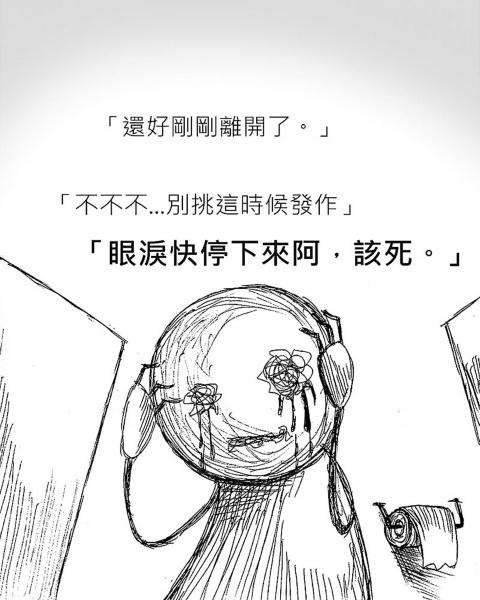 "Stop the tears, damn it," says the main character from Internet comic artist DeluCat's latest strip.
Photo: screen grab from DeluCat's Web site
The comic strip depicts a woman apologizing and leaving for the restroom after feeling the onset of an attack of depression, saying the first time the feeling had occurred was at elementary school, or even earlier.
It is clear that, so as not to be treated as a freak, she keeps her emotions hidden, but that led to thoughts that devalued herself. It is also the reason she often entertains thoughts of suicide.
The comic strip is DeluCat's attempt to explain why her friends with bipolar disorder are unwilling to explain why they are depressed and how their reticence is often misinterpreted.
DeluCat says that everyone uses their own perspective to interpret depression, adding that it can seem as if, if left long enough, it would be "miraculously cured."
Despite the woman's multiple failed attempts at suicide, lending further credence to her feeling that she does not matter, because the attempts were not discovered or were misinterpreted, DeluCat ends the strip with the line: "Everything will get better... It's been 10 years and I'm still here."
While DeluCat apologized for posting such a dark strip on the first day of the year, many netizens said her art was "to the point," offering an easy, but in-depth understanding of the truth about depression.
Others thanked her for the comic strip, saying that it would help others realize how inconsiderate they are, with one netizen thanking DeluCat for articulating what all sufferers of depression want to say.
Comments will be moderated. Keep comments relevant to the article. Remarks containing abusive and obscene language, personal attacks of any kind or promotion will be removed and the user banned. Final decision will be at the discretion of the Taipei Times.