ELECTIONS: KMT, farmers, pigs to 'march for stability'
The Chinese Nationalist Party (KMT) is scheduled to host a "March for Taiwan's Stability" in Taipei today, rallying for support a week ahead of next Saturday's presidential and legislative elections.
President Ma Ying-jeou (馬英九), first lady Chow Mei-ching (周美青), KMT chairman and presidential candidate Eric Chu (朱立倫) and his running mate, Jennifer Wang (王如玄), are to take part in the march, KMT Culture and Communications Committee vice director Lee Ming-hsien (李明賢) said yesterday.
Three formations of people, named "the power of hope," "the power of love" and "the power of unity," are to start from different locations and march toward Liberty Square in front of the Chiang Kai-shek Memorial Hall.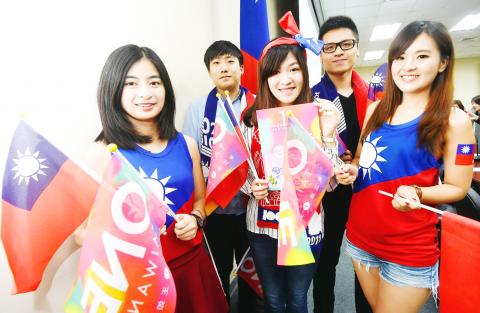 Three women hold up the national flag yesterday in Taipei to promote a campaign parade slated to be staged by the Chinese Nationalist Party (KMT) today in Taipei.
Photo: Fang Pin-chao, Taipei Times
The party called for supporters to wear blue, red and white clothing, the colors of the Republic of China national flag, during the march, which is scheduled to begin at 2pm, Lee said.
To express opposition to imports of US pork containing the leanness-enhancing drug ractopamine, said to be a condition for US support of Taiwan's entry into the Trans-Pacific Partnership, farmers in the south are also expected to join the march, along with some of their pigs, Lee said.
The "power of hope" section is to be led by Ma, Chu and Wang and is to start from the main gate of National Taiwan University.
The "power of love" section is to be led by Chow, Deputy Legislative Speaker Hung Hsiu-chu (洪秀柱) and Chu's wife, Kao Wan-chien (高婉倩), starting at Daan Forest Park.
The "power of unity" group is to be headed by Vice President Wu Den-yih (吳敦義), Premier Mao Chi-kuo (毛治國) and Legislative Speaker Wang Jin-pyng (王金平), and is to start from Youth Park.
Comments will be moderated. Keep comments relevant to the article. Remarks containing abusive and obscene language, personal attacks of any kind or promotion will be removed and the user banned. Final decision will be at the discretion of the Taipei Times.