Schoolbags popularized by online post
SOLD OUT: Miniature versions of the popular schoolbags became an instant hit, with online customers buying up more than 500 mini-bags within a week, a student said
The schoolbags issued to the students of Siwei High School in Hualien County have shot to fame following an Internet post, bringing financial returns to the school over what it considered an everyday object.
In late October, a photograph began circulating on the Internet, showing students from the school sitting on their schoolbags on a platform at Hualien Railway Station. A comment under the post said the bags were "the toughest on Earth."
The school has been installing wooden frames in the bags, school dean Liao Wei-chen (廖偉辰) said, adding that it allowed for the otherwise soft material to look straighter and let it function as a seat for students while they wait for transportation.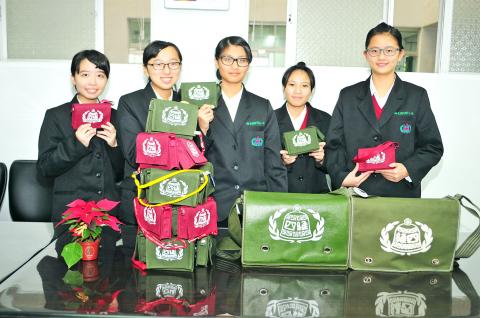 Students of Siwei High School in Hualien County hold up miniature versions of their schoolbags on Tuesday last week.
Photo: Hua Meng-ching, Taipei Times
"The design that incorporates a wooden frame into the bag has been used by the school for more than three decades and it is a fond memory among the school's alumni," Liao said, adding that the design is the only one of its kind in Taiwan.
Students and teachers at the school said that since October they have learned that what has been a fond memory shared by the school alumni was something new in the eyes of residents in northern Taiwan.
Due to the popularity of the bags, the school decided to make them available to the public and started selling them online, which was a project prepared by an intern attending the school's digital commerce courses, school staffer Wei Shih-kai (魏士凱) said.
The school also created accounts on online platforms such as Yahoo.com and Ruten.com, he added.
Miniature versions of the bags were also made, the school said, adding that it put 550 of the miniature bags on sale on Dec. 9.
"The product has been an immediate hit and is probably the best-selling commercial product in the school's store," student Wang Yu-hua (王御華) said, adding that the entire batch sold out within a week.
The miniature bags came complete with a school logo and a scaled-down version of the bags' trademark wooded frame, the school said.
Comments will be moderated. Keep comments relevant to the article. Remarks containing abusive and obscene language, personal attacks of any kind or promotion will be removed and the user banned. Final decision will be at the discretion of the Taipei Times.