Medical volunteer commended by hospital
RARE FIND: The number of young physicians willing to go abroad is falling due to financial and safety concerns, the head of a hospital department said
A young doctor who performed surgeries on two children diagnosed with hydrocephalus under adverse conditions has been lauded by the Kaohsiung Medical University Hospital.
Wang Tse-lun (王澤倫), 33, said he was working with a group of medical volunteers in the Solomon Islands in November last year, when local physicians asked him if he could treat two children who were diagnosed with hydrocephalus.
"I had not brought proper equipment with me, as I was not expecting to perform surgery," Wang said, adding that he learned that a group of Taiwanese volunteers were about to arrive at the Solomon Islands to inspect the dengue fever situation there, so he asked them to bring medical equipment and antibiotics.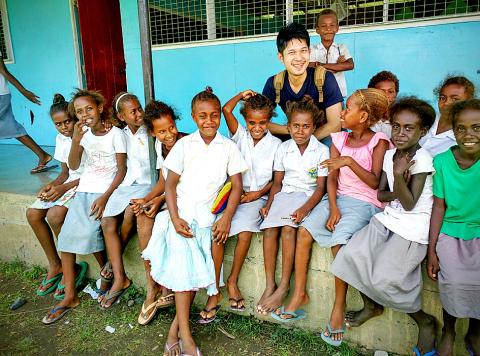 Wang Tse-lun poses with schoolchildren in the Solomon Islands in November last year.
Photo courtesy of Wang Tse-lun
"I had to spend a considerable amount of time with the nurses and the anesthetist prior to the surgery due to their lack of experience," Wang said.
The operation room where he performed the surgeries had poor hygiene, and crabs frequently crawled in and out of the room while surgeries were under way, he said.
The surgeries performed on a two-year-old child and a four-month-old infant were successful, with drainage tubes carrying the excess water from their cranial cavities to their abdominal areas, Wang said.
The hospital said it hoped Wang's example would encourage other young doctors to uphold the Hippocratic Oath instead of being concerned over their own income.
"I have always held the medical vocation in high esteem," Wang said, adding that it led to his choice to serve in Burkina Faso in west Africa for his mandatory service in the army.
Wang said that his choice was aimed at broadening his experience in foreign nations, but he quickly learned how much that nation lacked in medical resources.
There were no international volunteer clinics and the public had developed a fatalistic view concerning disease, Wang said, adding that the area was generally impoverished, had no supply of water or electricity and people's lives were threatened by malaria, dengue fever and parasites.
People are willing to row a boat and travel for eight hours to see a doctor, while mothers were walking the whole way carrying their children on their backs, Wang said, adding that such conditions foster more intimate personal relations.
Only traditional diagnostic methods were available due to the lack of medical equipment, he said.
Wang said it was at Burkina Faso that he learned to care for people and to care for the disadvantaged.
Upon the termination of his military service and receiving a position at the hospital, Wang continued to work as a volunteer to help disadvantaged people in Malawi, northern India, Indonesia and the Solomon Islands with international medical groups.
The number of young doctors willing to join a month-long international volunteer group is decreasing, Kaohsiung Medical University Hospital's neural surgery department director Lin Chih-lung (林志隆) said.
Lin said he thought that the decrease in the number of volunteers was due to safety concerns and the impact of losing a month's wage, adding that only the most passionate doctors volunteered.
Lin encouraged young doctors to devote more of their time to helping medical facilities in the countryside or abroad with international volunteer groups to search for the same passion they had when devoting themselves to the medical profession.
Comments will be moderated. Keep comments relevant to the article. Remarks containing abusive and obscene language, personal attacks of any kind or promotion will be removed and the user banned. Final decision will be at the discretion of the Taipei Times.