Taiwanese no longer bullied after rout of KMT in 2014 elections: Ko Wen-je
The trend of Taiwanese being "toyed with" and "bullied" into an "obedient people" was reversed by the rout the Chinese Nationalist Party (KMT) suffered in the November 2014 nine-in-one elections, Taipei Mayor Ko Wen-je (柯文哲) said.
Ko made the remarks on Sunday during a lecture at the Ketagalan Institute, which was founded by former president Chen Shui-bian (陳水扁) in 2003 to nurture a new generation of politically adept professionals.
"I have performed genetic research, and personality is related to DNA. In animal experiments, when tame dogs are mated with other tame dogs, the resulting offspring were ever tamer," Ko said.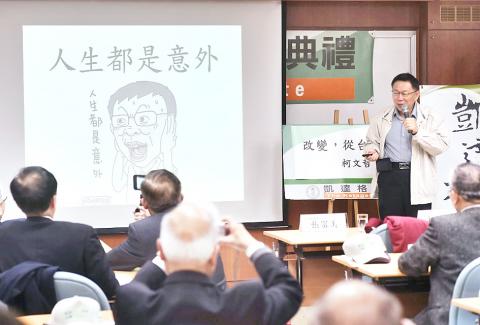 Taipei Mayor Ko Wen-je, right, talks about his reasons for entering politics during a lecture at the Ketagalan Institute in Taipei on Sunday.
Photo: Fang Pin-chao, Taipei Times
"From the anti-Dutch rebellion led by Kuo Huai-yi (郭懷一) to rebellions during the Qing Dynasty and the Japanese colonial era, Taiwanese have stubbornly resisted colonial authorities, but in every revolt they were caught and culled, resulting in all the brave being killed, leaving only obedient people," Ko said. "I am a mutated specimen; at least that is what I say to console myself."
However, the 2014 elections "changed the story, as the nation began to recover its confidence," Ko said.
Ko, the former director of National Taiwan University Hospital's (NTUH) Department of Traumatology, said he left the hospital to run for Taipei mayor in 2014 because he wanted to "call young people into action" and "defeat the party-state system."
"Taiwan's confidence as a maritime nation must now be rediscovered," because 400 years ago Taiwanese were pirates and brave immigrants, which in theory should have "suffused their bloodlines with the entrepreneurial spirit," Ko said.
Ko said that during the mayoral race, he campaigned on a bicycle, and since taking office in December 2014 he has repeatedly taken on "difficult challenges and dared to do what has never been done in order to bring back confidence at a subconscious level" for Taiwanese.
Comments will be moderated. Keep comments relevant to the article. Remarks containing abusive and obscene language, personal attacks of any kind or promotion will be removed and the user banned. Final decision will be at the discretion of the Taipei Times.