KMT internal poll shows Chu closing gap
LACK OF LEADERSHIP: A statement on the survey said Tsai's inability to elaborate on issues such as national defense, energy and a US pork ban have unnerved voters
With only 11 days remaining before the Jan. 16 presidential election, the gap between Chinese Nationalist Party (KMT) presidential candidate Eric Chu (朱立倫) and his Democratic Progressive Party (DPP) opponent, Tsai Ing-wen (蔡英文), has narrowed to 8 percentage points, according to the KMT's latest internal survey released yesterday.
The telephone-based survey was conducted among people aged 20 years and older on Saturday evening, following the second televised presidential debate in the afternoon.
The poll showed that while Tsai maintained a lead over her rivals at 39.2 percent, she was just 8 percentage points ahead of Chu, who received an approval rating of 31.2 percent.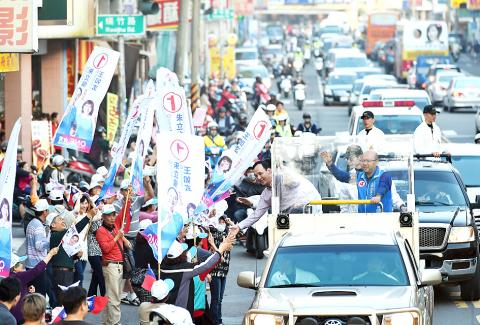 Chinese Nationalist Party (KMT) presidential candidate Eric Chu leans out of a truck to shake hands with supporters at a rally in Kaohsiung yesterday.
Photo: Chang Chung-yi, Taipei Times
The gap between Chu and Tsai was 9.5 percentage points in the KMT's previous internal survey released on Dec. 22 last year, in which Tsai received 40.4 percent of support compared with Chu's 30.9 percent.
Meanwhile, People First Party (PFP) presidential candidate James Soong (宋楚瑜) garnered 10.7 percent approval, while 18.9 percent of respondents declined to express their voting preference, the KMT poll showed.
With regard to the three candidates' performance during the two televised presidential debates, in terms of the clarity of their policies, 31.9 percent of respondents to the survey believed Chu outperformed the others, followed by Tsai at 30.4 percent and Soong at 19.3 percent.
About 18.3 percent of respondents said that they were unable to form a judgement.
"The polling results indicate that after two televised debates and policy presentations, the public's faith in Chu, who has proposed concrete policies regarding the nation's economy and future direction, has been growing," the KMT said in a press release issued yesterday.
The KMT attributed the growth in Chu's approval rating to his expertise in finance and abundant experience at governing, which it said have helped the KMT chairman achieve stellar business solicitation results and lay out detailed policies concerning people's livelihood.
"Also, it is worth noting that among all age groups, the 20-29 demographic had the highest percentage of people who believed Chu delivered the best performance at the debates, at 46.5 percent," the statement said.
"It shows that Chu's employment and income boosting policies have been recognized by the majority of young people in the nation," it added.
In contrast, Tsai's inability to clearly elaborate on her policy proposals on cross-strait issues, foreign affairs, national defense, international trade, energy resources and the import ban on US pork containing ractopamine have apparently unnerved voters, the KMT statement added.
"Repeatedly checking her notes during debates and her failure to demonstrate leadership … or principles are also primary reasons behind her declining support rating," the KMT said.
The poll collected 876 valid samples. It has a confidence level of 95 percent and a margin of error of 3.31 percentage points.
Comments will be moderated. Keep comments relevant to the article. Remarks containing abusive and obscene language, personal attacks of any kind or promotion will be removed and the user banned. Final decision will be at the discretion of the Taipei Times.