Taiwan's hottest winter solstice in 67 years
IMPERVIOUS: The heat did not seem to reduce the demand for the hot glutinous rice ball soup, as store owners raced to serve their customers
The nation had its warmest winter solstice in 67 years yesterday, with the highest temperature rising above 30°C.
The astronomical phenomenon is known as Dongzi (冬至) in Taiwan, which means the "arrival of winter" and is the 22nd solar term on the traditional East Asian calendar. On the winter solstice, the northern hemisphere has its shortest day and longest night of the year.
Traditionally, Taiwanese eat hot glutinous rice ball soup, or tangyuan (湯圓), on the winter solstice.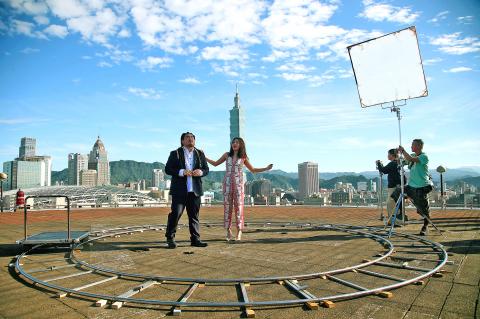 Matzka, left, and A-lin, second left, shoot their latest music video on the roof of the Chinese Television System building in Taipei yesterday.
Photo: CNA
Statistics from the Central Weather Bureau showed the highest temperature yesterday was recorded in Taipei, with the high hitting 30.5°C at 2:01pm.
The statistics also showed that the nation experienced its third-warmest winter solstice in recorded history, only beaten by 31.5°C recorded in 1934 and 30.7°C in 1948.
New Taipei City's Tamsui (淡水) recorded a high temperature of 30.2°C at 1:57pm. In Banciao, the mercury surged to 29.9oC at 1:30pm.
Bureau forecaster Chang Cheng-chuan (張承傳) said the warm weather yesterday was caused by a southeasterly wind and strong sunlight.
However, the hot weather did not seem to reduce the appetite for the hot glutinous rice ball soup, as many store owners were still busy serving customers the winter dessert or delivering it to office workers.
"Many companies had ordered the dessert about a week before the winter solstice, because they were afraid that nobody would deliver to them if they ordered too late," one store owner said.
Zhang Yang (張揚), who has just finished his military service, said his appetite for the dessert would not be affected by the weather.
The sunny skies are forecast to continue until tomorrow, although showers are expected in the north and east at about midnight on Christmas Eve because of the arrival of a frontal system.
The temperature is forecast to begin sliding on Friday due to the arrival of the northeast monsoon, with the high hitting no more than 20oC.
Comments will be moderated. Keep comments relevant to the article. Remarks containing abusive and obscene language, personal attacks of any kind or promotion will be removed and the user banned. Final decision will be at the discretion of the Taipei Times.