KMT legislative candidate faces bribery accusations
Independent legislative candidate Billy Pan (潘建志) yesterday said that donations for prize draws by Chinese Nationalist Party (KMT) legislative candidate Chiang Wan-an (蔣萬安) amounted to bribing residents of Taipei's third district.
Outside the Taipei District Prosecutors' Office, Pan showed a video of Chiang giving away an electronic standing fan as part of a prize draw at a local borough event after asking residents for their support.
"Chiang's election events have been degraded to the level where everyone has a 'prize,'" Pan said, playing on Chiang's surname, which is pronounced the same as the character for "prize" (jiang, 獎) in Mandarin.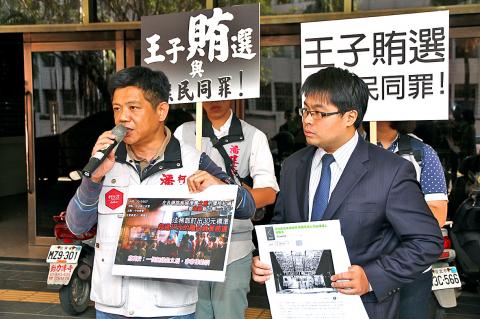 Independent legislative candidate Billy Pan, left, holds up an image from a video that allegedly shows Chinese Nationalist Party (KMT) legislative candidate Chiang Wan-an paying a bribe.
Photo: Hsieh Chun-lin, Taipei Times
Pan added that the prize winner should be considered a "specified" gift recipient because they would be required to show identification to the local borough warden to receive the gift.
Pan's lawyer, Huang Di-ying (黃帝穎), said that any gifts from candidates exceeding NT$30 were subject to suspicion of bribery, with a letter of interpretation from the Ministry of Justice including prize draws within the scope of restrictions.
Pan earlier on Friday displayed photographs purporting to show that Chiang had donated a bicycle and other prizes to borough prize draws during Mid-Autumn Festival and Double-Nine Festival celebrations.
Chiang, the son of former KMT vice chairman John Chiang (蔣孝嚴) and a fourth-generation descendant of former president Chiang Kai-shek (蔣介石), said on Facebook that he had only provided individual prizes at all of the events cited by Pan, adding that there were no "specified" recipients for the gifts because they were distributed through random draws.
Providing gifts "proportional to social etiquette" during traditional holiday celebrations does not constitute "bribery" under election regulations, he said, adding that he was only a "passive" participant in celebrations organized by local borough wardens.
Comments will be moderated. Keep comments relevant to the article. Remarks containing abusive and obscene language, personal attacks of any kind or promotion will be removed and the user banned. Final decision will be at the discretion of the Taipei Times.