'Mercy release' in Chiayi generates fishing frenzy
A mass "mercy release" of Acanthopagrus schlegelii (blackhead seabream) on Saturday by an unnamed religious group led to a free-for-all by anglers at Fishing Harbor No. 3 of Chiayi County's Budai Township (布袋).
A "mercy release," or fang sheng, refers to the release of captive animals into the wild by religious groups, a practice criticized by animal rights and environmental activists, including the Environment and Animal Society Taiwan, who say it does more harm than good, since many religious groups are now purchasing large numbers of animals for the sole purpose of releasing them, instead of helping animals in captivity.
For the past three days at the harbor, fishing enthusiasts have been seen angling with their accoutrement of rods and cooler tanks full of the fish.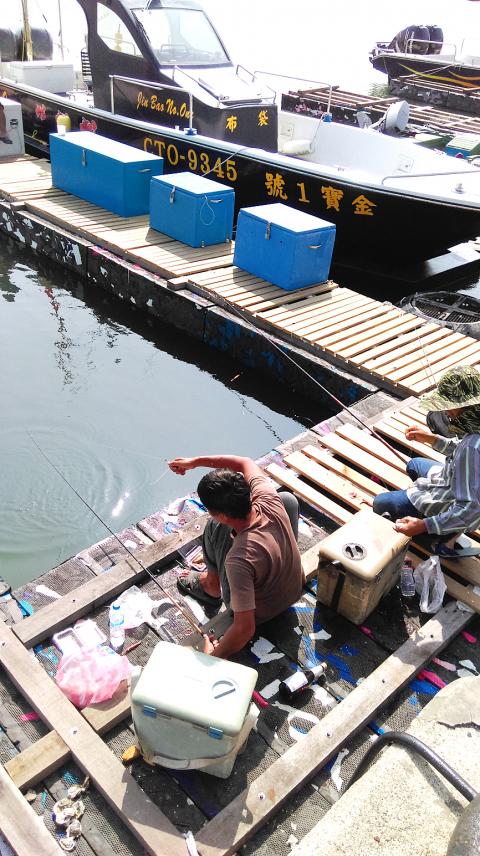 Two men fish for black seabream at Fishing Harbor No. 3 in Budai Township, Chiayi County, on Tuesday.
Photo: Lin Yi-chang, Taipei Times
The anglers said that the more proficient or lucky ones could catch up to seven or eight seabream per hour, and sometimes catch a pair at the same time.
Most of the anglers come from Chiayi County's Yichu (義竹) and Dongshi (東石) townships, but some also traveled from as far as Tainan.
The Chiayi Department of Agriculture said that a religious group had applied to conduct a "mercy release" of blackhead seabream, which was granted by the department because the species is on a list for approved legal release.
However, fishing in Fishing Harbor No. 3 is forbidden and carries a fine of between NT$30,000 and NT$150,000 under Article 18 of the Fishing Port Act (漁港法), the department said, calling on the public not to break the law.
At least one angler said that he released the blackhead seabream that he caught, adding: "Catching 'mercy release' fish makes me feel funny inside, so I let them go."
Comments will be moderated. Keep comments relevant to the article. Remarks containing abusive and obscene language, personal attacks of any kind or promotion will be removed and the user banned. Final decision will be at the discretion of the Taipei Times.