Taobao said to sell fake museum items
COUNTERFEIT CRACKDOWN: Alibaba Group founder Jack Ma said that his company employs a team of 2,000 workers to police the sales platform against pirate merchandise
As many as 240,000 pieces of suspected counterfeit merchandise that infringe on the intellectual property of the National Palace Museum have been discovered on the Chinese online marketplace Taobao.
The museum has demanded that Taobao withdraw from its Web site 32 products that are confirmed to be intellectual property infringements.
Chinese Internet marketplaces have been selling numerous products that infringe on the National Palace Museum's intellectual property, Chinese Nationalist Party (KMT) Legislator Chiang Nai-shin (蔣乃辛) said during a question-and-answer session at the Legislative Yuan in Taipei yesterday.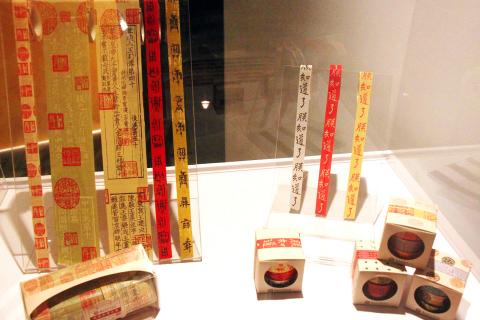 Merchandise from the National Palace Museum is displayed on Dec. 21, 2013.
Photo: Lin Hsin-han, Taipei Times
Chiang said that the unauthorized products include those featuring the Jadeite Cabbage with Insects, the Meat-shaped Stone, as well as various adhesive tapes depicting the handwriting of Emperor Kangxi (康熙), some of the most popular souvenir products from the museum.
National Palace Museum Director Feng Ming-chu (馮明珠) yesterday said the museum last year established a group specifically tasked with upholding its intellectual property rights.
"We have contracted a law firm and one of our museum staff search the Internet every day for any and all situations where intellectual property rights of the museum are being infringed upon," Feng said.
"To date, we have found 248,755 items that have allegedly violated the museum's rights, with 32 of them confirmed violations," Feng said, adding that the majority have been found on the Internet sales platform Taobao.
Separate investigations indicate that Chinese sales platforms, primarily Taobao, have a 40 percent rate of holding counterfeits or poor-quality goods.
Alibaba Group, the company that owns the Taobao platform, has received multiple lawsuits over counterfeit items, including several from international brands, such as Gucci, Yves Saint-Laurent and Balenciaga, earlier this year.
Following the lawsuits, Alibaba Group founder Jack Ma (馬雲) promised to crack down on counterfeit goods on the site, adding that a staff of 2,000 is policing the site against pirate merchandise.
Comments will be moderated. Keep comments relevant to the article. Remarks containing abusive and obscene language, personal attacks of any kind or promotion will be removed and the user banned. Final decision will be at the discretion of the Taipei Times.