Chu, Wang register for presidential poll
EARLY MORNING DATE: Eric Chu said that he and his running mate happened to have free time, so they chose to file their registrations, not for any auspicious reason
Chinese Nationalist Party (KMT) presidential candidate Eric Chu (朱立倫) and his running mate, former Council of Labor Affairs minister Jennifer Wang (王如玄), yesterday officially registered their ticket at the Central Election Commission, as labor activists demonstrated outside.
Chu and Wang, accompanied by KMT Secretary-General Lee Shu-chuan (李四川), Deputy Secretary-General Chiang Cheng-yen (江政彥) and Culture and Communications Committee director-general Lin Yi-hua (林奕華), completed the registration process at about 9:05am.
Asked whether the time and date that they registered had been picked for auspicious reasons, Chu said he has tried to keep his mind at ease given that he and Wang are fighting against the tide.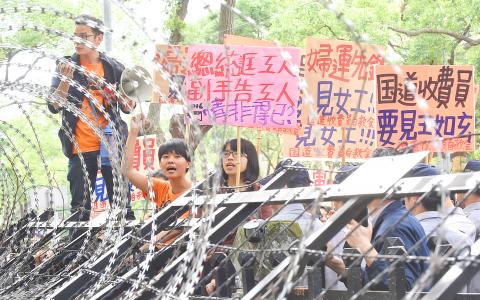 Former freeway toll collectors, unemployed workers and their supporters yesterday peer through a razor-wire barrier outside the Central Election Commission in Taipei during a protest against Chinese Nationalist Party (KMT) presidential candidate Eric Chu and his running mate, Jennifer Wang.
Photo: Liu Hsin-de, Taipei Times
"Every day is an auspicious day. We are free this morning, so we chose to register our candidacy now," Chu said.
He dismissed concerns that Wang's allegedly speculative sales of military housing units could hurt their campaign, saying he would ask Wang to explain the matter to the public through interviews or other channels.
"Since Wang was nominated to be the KMT's vice presidential candidate on Wednesday last week, the Democratic Progressive Party [DPP] and other parties in the pan-green camp have employed all available means to launch a negative campaign against her and to interfere with the elections," Chu said.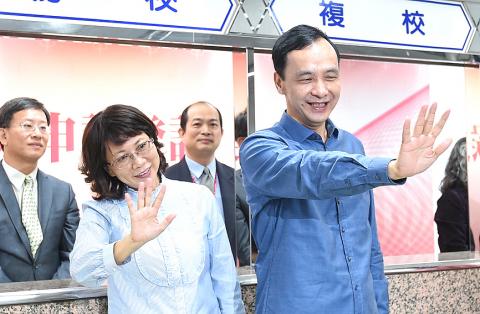 Chinese Nationalist Party (KMT) presidential candidate Eric Chu and vice presidential candidate Jennifer Wang complete their registration yesterday at the Central Election Commission in Taipei.
Photo: Liu Hsin-de, Taipei Times
"Such tactics are detrimental to Taiwanese democracy. We should return the focus of the race to policy debates, such as how we are going to steer Taiwan toward the world, open up its economy, or improve its grassroots workers' income and benefits," he said.
Wang reportedly made a substantial profit on several residences that had been converted from old housing for military dependents.
DPP Legislator Tuan Yi-kang (段宜康) said Wang had acquired more military residences than she admitted, while DPP presidential candidate Tsai Ing-wen (蔡英文) on Tuesday said that Wang should not forget that military housing was built to provide a home for veterans and their families.
Later in the day, Chu unveiled his first campaign video at the KMT's headquarters in Taipei. In the two-minute video, he promises to combine the "two mutually confrontational Taiwans" into one that is marked by warmth and mutual trust.
"Over the years, I have often seen two Taiwans. One requires protection, the other needs to go on adventures. One makes people worry, the other makes people proud. One bickers frequently, the others chooses to embrace," Chu says in the video.
While some believe elections are about taking down one's opponents, Chu told reporters that he chooses to believe they are about deciding a nation's future.
"We only have one Taiwan and I have only one thought on my mind: That I aspire to join hands with everyone and continue to strive for Taiwan," he said.
Former toll collectors and other labor activists protested outside the Central Election Commission, demanding that Chu present a plan to compensate the toll collectors and other "temporary" government workers for lost "seniority," which affects their eligibility for pensions and severance payments.
"We question their [Chu and Wang's] qualifications to become candidates for president and vice president, given that they have not looked after the interests of working people," Former Freeway Toll Collectors Self-Help Organization president Sun Hsiu-luan (孫秀鑾) said.
She said Chu had broken repeated promises to meet with the laid-off workers.
Sun also reiterated activists' pledge to follow the KMT candidates "like a shadow" until they respond to the group's complaints.
Additional reporting by Abraham Gerber
Comments will be moderated. Keep comments relevant to the article. Remarks containing abusive and obscene language, personal attacks of any kind or promotion will be removed and the user banned. Final decision will be at the discretion of the Taipei Times.