Mayor flunks 'mid-term examination'
Taipei Mayor Ko Wen-je (柯文哲) yesterday flunked a "mid-term examination" on policies he proposed, only managing to give correct answers to five questions out of 20.
Democratic Progressive Party Taipei City Councilor Ho Chih-wei (何志偉) presented Ko during a question-and-answer session with a "test paper" of 20 questions on "Ko P's new policies," which were proposed by the mayor during his election campaign last year.
Ko P is a nickname the mayor is known by.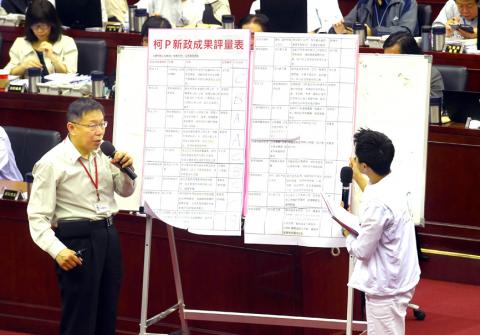 Taipei City Councilor Ho Chih-wei, right, questions Taipei Mayor Ko Wen-je, left, during a city council meeting yesterday.
Photo: Fang Pin-chao, Taipei Times
Ho asked Ko to write an "A" next to policies already implemented by the city government; "B" for those that are under way, but not yet completed; and "C" for the ones that have not been attended to.
After Ko finished answering all the questions, Ho graded the test paper using information provided by the Taipei Research, Development and Evaluation Commission, and found that Ko had only gotten five questions right, a failing grade of 25 percent.
The results indicated that the Ko administration has implemented 13 policies he proposed, though the mayor was not aware of most of them.
For instance, Ko seemed to have forgotten about efforts that had been made to boost public participation in identifying wasteful spending via the city government's "visualized budgets."
He also failed to recognize work by the Taipei Department of Cultural Affairs to build homes and venues for artistic exhibitions and performances on college campuses.
The results indicated that Ko was most familiar with policies on public housing and childcare.
Ko was right in that the rent for public housing would be capped at about NT$500 per ping (3.3m2), with the Xinlong Public Housing Buildings at the beginning of this month opening to applications at about that price, the results showed.
Ko said the city government had established a "babysitter platform," with profiles of qualified babysitters.
"I took office less than one year ago," Ko said when asked about the score. "It is impossible that I have familiarized myself with everything."
"Few people fare well in pop quizzes," he added.
On policies that have not been introduced, he said: "They are meant to be completed in four years. There is still time."
Comments will be moderated. Keep comments relevant to the article. Remarks containing abusive and obscene language, personal attacks of any kind or promotion will be removed and the user banned. Final decision will be at the discretion of the Taipei Times.