University launches hybrid rocket
A new hybrid rocket built by a research team from National Cheng Kung University (NCKU) was launched on Oct. 28, the university announced yesterday.
The rocket was launched from a beach near Pingtung County's Mudan Township (牡丹), and reached an altitude of 9km, which is higher than any other hybrid rocket launched by a university team anywhere in Asia, NCKU's Aerospace Science Department director and team leader Chao Yi-chin (趙怡欽) said.
The rocket's launch — which required 1,000 kilogram-force (kgf) of thrust — is a key technological breakthrough that indicates that hybrid rockets can progress beyond testing and start to have practical applications, Chao said.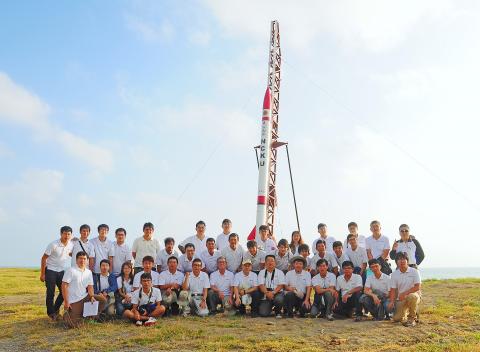 A research team from National Cheng Kung University pose by a new hybrid rocket in Pingtung County's Mudan Township on Oct 28.
Photo courtesy of National Cheng Kung University
The rocket is 5.3m high, with a diameter of 28cm and weighed 194kg at takeoff, Chao said.
Rocket engines are often divided into three types — solid-propellant rockets, liquid-propellant rockets and hybrid propellant rockets — with propellants providing the fuel and the oxidizer required for combustion.
The team has researched hybrid rocket motors for several years, and has fully grasped the key technology for developing such rockets, Chao said.
The team's rocket uses a hybrid propellant system with paraffin wax and hydroxyl-terminated polybutadiene (HTPB) as solid fuel grain, and non-toxic and environmentally friendly liquid nitrous oxide as an oxidizer, Chao said.
All the components of the rocket were designed and developed locally and the technology could be applied to both national defense and space exploration, Chao said.
The research team would continue to develop new types of rockets and aimed to reach an altitude of 100km, Chao said.
Comments will be moderated. Keep comments relevant to the article. Remarks containing abusive and obscene language, personal attacks of any kind or promotion will be removed and the user banned. Final decision will be at the discretion of the Taipei Times.