Number of illegal structures in Taipei rising on Ko's watch, lawmaker says
The number of illegal structures in Taipei has been steadily increasing since Taipei Mayor Ko Wen-je (柯文哲) assumed office, despite Ko's resolve to tackle the issue, a Taipei city councilor said yesterday.
During a city council question-and-answer session, Democratic Progressive Party (DPP) Taipei City Councilor Chou Po-ya (周柏雅) said since former Taipei mayor Hau Lung-bin left office, the number of illegal structures that must be removed by law has increased from 26,694 to 27,311 last month.
The city's illegal structures are increasing at a rate of about 300 new violations each month, while the number of large-scale illegal structures occupying more than 200m2 has risen by nine.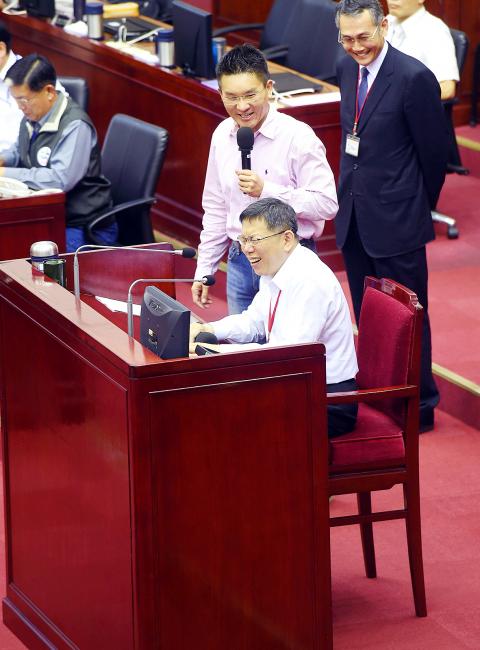 Democratic Progressive Party Taipei City Councilor Tung Chung-yen, holding a microphone, yesterday invites a laughing Taipei Mayor Ko Wen-je, sitting, to sit down during a question-and-answer session in the Taipei City Council.
Photo: Fang Pin-chao, Taipei
One of the newly discovered large-scale illegal structures has been flattened, Chou said, adding that 51 large-scale illegal structures — covering an area of 28,482.6m2 — remain in the city.
He said the number of illegal structures demolished by the city government is down by about 350 compared with the same period last year and in 2013, when Hau was in office.
Quoting Ko, who said that illegal structures are a "disgrace" to the nation, Chou said that it is ironic that the number had risen.
Asked to set a deadline to remove the large-scale illegal structures, Ko said that he would flatten all 51 buildings in six months.
Chou also said that some luxury homes with "public space" in the city's Xinyi District (信義) have illegally occupied alleys reserved for urban planning.
He said that construction firms which allocate "public space" receive "bonus space" from the city government, which has issued 668,454m2 in bonus space since the rule came into effect.
In response, Ko promised to eliminate the illegal feature by the end of this year.
Comments will be moderated. Keep comments relevant to the article. Remarks containing abusive and obscene language, personal attacks of any kind or promotion will be removed and the user banned. Final decision will be at the discretion of the Taipei Times.