FEATURE: Super-sports cars a world for the rich
STATUS SYMBOL: Several of those now involved in the luxury trade are enthusiasts who grew tired of waiting for prize automobiles and started their own businesses
Despite stagnant wages and rising income inequality, the nation's auto dealers said they expect to sell 5,000 super-sports cars and luxury vehicles by the year's end.
Yeh Ming-te (葉明德), chief executive officer of T Car TV, a television channel that caters to auto enthusiasts with test driving shows, said that in 2010 only 1,000 sport cars were sold nationwide, which makes this year's expected total sale of 5,000 a fivefold increase in as many years.
"Right now, there are more Porsches than Luxgens on the road [in Taiwan]," Yeh said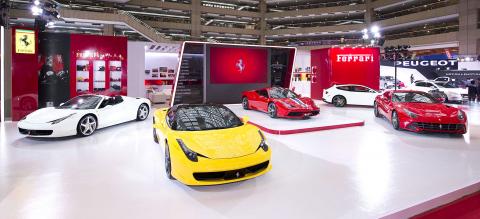 Super-sports cars are on display at a "super-sports car market" in Taipei in an undated photograph.
Photo courtesy of the market operator
Yeh said the volume of annual sales of strictly defined super-sport cars — cars that boast a 500 horsepower engine, a power-to-weight ratio under 4 kilowatts per kilogram, the ability to accelerate to 100kph in less than four seconds, and a top speed of more than 300kph — is about 300 each year.
However, if broadly defined high-end sport cars such as Porsche, Maserati, Mercedes-AMG and BMW M Power series are included, than yearly demand is approximately 1,500 he said.
Adding luxury sedans, such as those by Bentley and Rolls Royce, then close to 4,000 "luxury cars" were purchased in Taiwan last year, and this year sales could "easily" exceed 5,000, which means tens of billions in the high-end sports car category, Yeh said.
Some super-sport cars cost more than NT$50 million (US$1.53 million) apiece, he said, adding that those rare autos are usually kept in the garages of billionaires as collectables.
"Looking at these cars makes them happy," Yeh said.
Mandopop superstar Jay Chou (周杰倫) and car collector Cheng Wei-yuan (鄭為元), who is famous among auto enthusiasts, are probably among the few Taiwanese owners of the famed Pagani super-sport cars, of which there are only four in Taiwan.
The most marketable quality of super-sport cars are their limited production runs and the sense of superiority they afford, an unnamed auto dealer said.
"My best sales pitch is telling buyers not even money can buy [the cars] because they are so rare," the dealer said.
Auto-retailers on or near Gangqian Road in Taipei's Neihou District (內湖) — nicknamed "super car street" by auto enthusiasts — cater to wealthy buyers who want fast, exotic cars and earn about NT$3 billion in gross profits annually, an unnamed dealer said.
Parallel importers — dealers who import cars without the original manufacturers' authorization — have also whetted Taiwan's appetite for luxury cars, the dealer said.
By importing secondhand super-sport cars from the US, parallel importers can undercut retail prices by as much as 50 percent, the unnamed dealer said.
If a super car model retails for between NT$13.8 million and NT$15 million at an authorized dealer, a parallel importer could sell a three-and-a-half-year-old secondhand vehicle for between NT$7 million and NT$8 million, the dealer said.
An authorized dealer typically sells a secondhand super car of the same make and model for between NT$9 million and NT$10 million, or 65 percent of the original price, the dealer said.
As a result, sports car enthusiasts of less extravagant means buy from parallel importers. However, the cost of buying unauthorized imports that there is no warranty and no maintenance history, the dealer said.
Super-sports car dealers tend to have grown up around sports cars.
Modena Motori Taiwan Co chairman Chen Le-wei (陳樂維), is the sole importer and distributor for Ferrari and Maserati. He is a noted Ferrari collector and son of Kelti International Co chairman Chen Wu-kang (陳武剛), who is a founding investor of Modena Motori Taiwan.
Former Premier Technology Co chairman Huang Chen-chih (黃震智) is another founding investor of the firm and is Chen's business partner and fellow Ferrari enthusiast.
Chen went into business 10 years ago after going to Italy to negotiate with Ferrari and its sister brand, Maserati, to be the authorized importer and distributor of the brand in Taiwan because he was reportedly irritated by the erratic pricing and untrustworthy nature of unauthorized dealers.
Yun San Motors Co chairman Timothy Chang (張定民) is the son of former Chang Hwa Bank president Chang Po-shin (張伯欣) and collected motorcycles and sports cars before becoming part of the trade in high-end cars.
Yun San Motors previously dabbled in imported car parts, as well as fashion clothing and accessories. In 2007, the group restructured and won bids to represent British automakers Bentley, Aston Martin and McLaren, as well as French automaker Bugatti.
The base price for any car imported by Yun San Motors is about NT$10 million.
Rolls-Royce Motor Cars Taipei president Wilhelm Tsai (蔡伯翰) and board member Benny Tsai (蔡伯府) are the sons of My Humble House Corp founder and chief executive Tsai Chen-yang (蔡辰洋), with My Humble House the parent company of the auto dealership.
Gramus International Co president Alex Chao (趙一葵) is the authorized dealer for Lamborghini from Italy and the hand-made British Lotus. Chao used to be a sales representative for BMW and Mercedes-Benz. He is known as a pioneer in the customized auto market and was named the "best car salesman in Taiwan" by the Chinese-language magazine Business Weekly.
When asked to comment on the presence of "second-generation rich" in the luxury sport car business, industry sources said that not only to high-end cars and money go hand-in-hand, but many wealthy dealers were collectors who decided to take matters into their own hands by importing the cars they wanted themselves.
Sources added that for those who could afford to be in the business, dealing in super-sport cars could be used as leverage for social networking by the super rich, and that a car is a status symbol to mark a billionaire as having surpassed their peers.
Comments will be moderated. Keep comments relevant to the article. Remarks containing abusive and obscene language, personal attacks of any kind or promotion will be removed and the user banned. Final decision will be at the discretion of the Taipei Times.