MA-XI MEETING: Ko says Ma plans will not affect vote
DISCRETION DEMANDED: The Taipei mayor said that because the president's time in office is soon to end, 'we can only hope that he will be discrete' in Singapore
President Ma Ying-jeou's (馬英九) scheme to "bump into" Chinese President Xi Jinping (習近平) in Singapore this weekend is unlikely to impact the Jan. 16 elections, and Ma is in a poor position to attempt to "write history," Taipei Mayor Ko Wen-je (柯文哲) said yesterday.
Ko weighed in on the upcoming Ma-Xi meeting at the sidelines of a meeting with the city's borough wardens.
Ko said the Presidential Office should have announced the meeting earlier, as it is a major national affair.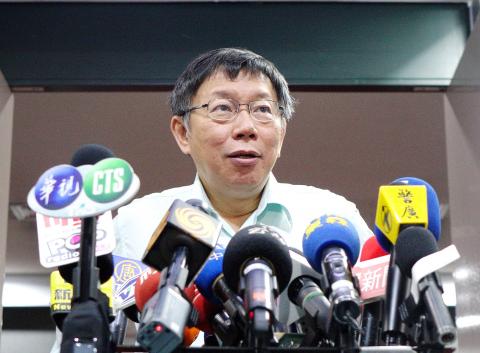 Taipei Mayor Ko Wen-je speaks to the media in Taipei yesterday.
Photo: CNA
"It would have been better if the meeting had been made public earlier to allow time for discussions and form some kind of consensus," Ko said.
Ko said that Ma's trip to Singapore is different in nature from his own trip to Shanghai to attend the Taipei-Shanghai forum, and that Ma, as the head of state, would most likely face issues about sovereignty — for example how the nation is addressed — during his meeting with Xi.
"The forum focused on collaborations between Taipei's and Shanghai's healthcare systems, so I was able to eschew these issues. However, as president, he probably would not be able to dodge them," Ko said.
He said considering Ma's soon-to-end term and his appalling approval ratings, "we can only hope that he will be discrete," adding that having confirmed news about the meeting so abruptly, Ma should provide a clear explanation of what he intends to achieve.
On a concern that the Ma-Xi meeting could boost the Chinese Nationalist Party's (KMT) campaign prospects by boosting the morale of its supporters, Ko said that past studies suggest it would be highly unlikely for a party to win after trailing by more than 10 percent in the polls.
He said it is unnecessary for Ma to "write history" in an attempt to boost his legacy.
"I often tell myself it is future generations that define one's legacy. One does not need to worry about such things while they are still alive," Ko said.
Asked to comment on a likely handshake between Ma and Xi, Ko said: "Xi Jinping will just have to pray for his own sake," prompting chuckles.
Netizens have described Ma's handshake as a "death grip," bringing bad luck, citing a list of foreign dignitaries who had accidents shortly after meeting the president.
Comments will be moderated. Keep comments relevant to the article. Remarks containing abusive and obscene language, personal attacks of any kind or promotion will be removed and the user banned. Final decision will be at the discretion of the Taipei Times.